"Soirées Musicales" with Dr. Chi-Kit Lam – 2023.10.19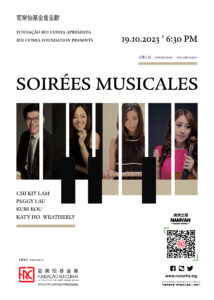 The Rui Cunha Foundation presents on Thursday, October 17th at 6:30pm, a session of the Nam Van Sound Waves series, titled "Soirées Musicales", with the renowned Pianist and Professor from Hong Kong, Dr. Chi-Kit Lam, who will meet some talented friend musicians from Macau, on a unique opportunity to witness the world of classical music through the sound tapestry of the selected compositions.
With participation of pianist Peggy Lau, flutist Kubi Kou and violist Kati Ho Weatherly, the program will include pieces for piano, flute and viola, by composers such as the Polish Frédéric Chopin, the Hungarian Franz Liszt, the Czech Antonín Dvořák, the Russian Sergei Rachmaninoff, the Danish Joachim Andersen, the Swiss, naturalized North American, Ernest Bloch, as well as the Argentine Astor Piazzolla.
Chi Kit Lam is a «virtuoso pianist, known for his technical prowess and profound musical expression, who will take the stage and ignite the atmosphere with his solo performances», namely with «the energy of Chopin's Scherzo No. 2 and the exquisite beauty of their nightlife", states the submitted proposal. The «grandeur and passion of Liszt's Fantasy on the Waltz of Gounod's Faust» will also evoke «a series of emotions that will resonate» through Lam's keys.
The audience will also have the privilege of hearing the ensemble of musicians in the «vibrant rhythms of Dvořák's Slavic Dances, and in the fascinating variations of Rachmaninoff's Rhapsody on a Theme of Paganini, or Andersen's Ballad and Dance of the Sylphs, with its harmonies that fill the air and transport [the viewer] to a world of imagination and wonder». Piazzolla's evocative compositions, including Oblivion and Libertango, together with Bloch's Concertino for Flute, Viola and Piano, reveal a «rare combination of instruments that mark a Macau premiere and highlight the harmonious interplay among them», states the program.
Chi-Kit Lam is a pianist from Hong Kong who began his musical training at the Hong Kong Academy of Performing Arts, and has completed his PhD in Musical Arts at the University of Kansas, studying Piano with Dr. Jack Winerock and Piano Pedagogy with pioneer Dr. Scott McBride Smith. He was a Professor at Oklahoma Panhandle State University and the University of Kansas, in the USA, and more recently at the Piano Faculty of Hainan University, in China. He has performed all over the world as a soloist, at important concerts and music festivals, and has been invited as a speaker and teacher at conferences and masterclasses on music and pedagogy.
Admission is free.
Don't miss it!
For Macau, Further and Higher!
Program – Nam Van Sound Waves – Soirées Musicales – 19.10.2023