A Psychedelic World – 2023.10.17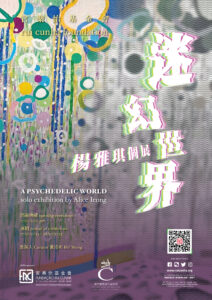 The Rui Cunha Foundation presents on Tuesday, October 17th at 6:30pm, the Individual Painting Exhibition "A Psychedelic World", by artist Alice Ieong (楊雅琪), who is currently Director General of the Macau Association of International Contemporary Art and Director of Ark – Association of Macau Art.
Curated by Bill Wong (黃成彬), the exhibition showcases 23 artworks of contemporary painting, which reflect the artist's aesthetic journey. According to him, «Alice Ieong grew up near Senado Square in Macau. As she used to step out of her home there was the tourist and cultural area full of the Calçada Portuguesa pavement. Looking back, Macau wastransformed from a small fishing village to the title of World Gaming Capital seemingly overnight and it is very dazzling. And she attempts to paint these external scenes, streets, different scenery, cultural and public atmosphere that she sees daily into the canvas».
«She is excited to explore life, beliefs, humans and society in the form of art», says the curator in the exhibition manifesto. But Alice Ieong converts «these familiar scenes into flat geometric objects like hidden landscapes. Compared with landscape painting, this is more like 'surrealist imagery painting' using fairytale colors to create a scenery that seems to have no seasons, no dawn and dusk, and no astronomical phenomena».
And Bill Wong exemplifies: «the poetic elements and symbols – such as falling stripes, floating circles, geometric shapes and apparently recognizable and unrecognizable objects – stand out in the paintings. The atmosphere stretches a cold and elegant feeling. The space is detached from reality without mundane elements, there is no people, time seems to be paused, things are static, but in a sense, things are moving too».
Alice Ieong lives and works in Macau. She has graduated from Master of Arts in Fine Arts in The Chinese University of Hong Kong. In addition to being Director General of the Macau International Association of Contemporary Art and Director of Ark, she has an extended list of works exhibited in Macau, Hong Kong, Shanghai, Guangzhou, Taiwan and at the National Art Museum of China, in Beijing.
The exhibition will be held until October 28th, 2023.
Admission is free.
Don't miss it!
For Macau, Further and Higher!