Nam Van Sound Waves – 2023.10.14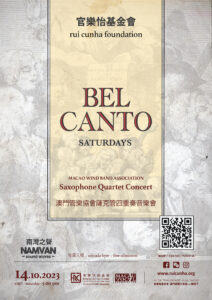 The Rui Cunha Foundation presents on Saturday, October 14 at 5:00 pm, a "Saxophone Quartet Concert" by the Macau Band Directors Association, as part of the series of Nam Van Sound Waves co-organized with the Macau Vocal Association, regularly providing a platform for Bel Canto and classical music performers at the FRC Gallery stage.
The Macau Vocal Association invited for the event a group of saxophone players who will dialogue with one another, in the different 'voices' of this wind instrument. They will perform famous musical pieces by composers such as the German Ludwig van Beethoven, the Belgian Jean-Baptiste Singelée, the British Richard Rodney Bennett, Swedish Erland von Koch, or Japanese Takatsugu Muramatsu and Joe Hisaishi.
Members of the MBDA Saxophone Quartet include Lao Mei Wai (劉美慧), Lao Chun Wa (劉晉華), U Chit Him (余哲謙), and Sam Chi Fong (沈梓楓), who will be playing soprano saxophone, alto saxophone, tenor saxophone, and baritone saxophone, in this sequence, but also alternating instruments, in solos, duets or ensembles.
The group has already a solid experience of public performances, with good reviews and a diverse repertoire, and is currently one of the few wind instrument groups in Macau.
The Macau Band Directors Association is a non-profit organization, founded in 1996, which works very closely with some of the territory's secondary schools. With a few hundred members to this day, MBDA is responsible for directing several bands at these educational institutions.
Admission is free.
Don't miss it!
For Macau, Further and Higher!
Program – Nam Van Sound Waves – Saxophone Quartet Concert – 14.10.2023