"Midsummer Music Encounter" . Piano Recital – 2022.08.17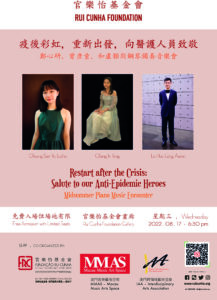 The Rui Cunha Foundation presents on Wednesday, August 17th at 6:30pm, the "Midsummer Music Encounter – Restart after the Crisis: Salute to our Anti-Epidemic Heroes", a piano recital that brings together three young talents – Kelly Chang, Esther Cheang and Aaron Lo – who are preparing to leave the territory later this month to pursue their music studies abroad.
Returning to our cultural activities, we intend with this event to honor all those who were on the front line supporting the fight against the pandemic outbreak of last month: from health professionals to workers of various government services, from the civil and business society to the many volunteers involved in this great common effort. But above all, we want to celebrate the extraordinary resilience and collaboration of the people of Macau.
The program selected for this concert will bring to the FRC Gallery stage the sound of suites, sonatas, waltzes and fantasies by classical composers such as Frédéric Chopin, Johannes Brahms, Chinese Wang Jianzhong, Franz Liszt, Wolfgang Amadeus Mozart, Jean-Philippe Rameau, Claude Debussy and Eric Satie.
Kelly Chang (Chang In Tong, 曾彥童) began studying piano at the age of 5 at Academia de Música S. Pio X, where she is a student of advanced level, under the tutelage of pianist and composer Evonne Lei, and music theory with Filomena Leong. In 2021, she received her diploma of Piano and Music Theory Grade 8 from ABRSM – Associated Board of the Royal Schools of Music, the British institution of international reference that guarantees high standards in music education and rigor with qualifications for the applicants. With several prizes in prestigious local and regional music competitions, the young pianist is preparing to be admitted in September to the Department of Medical Technology at Guangzhou Medical University.
Esther Cheang (Cheang Sam In, 鄭心研) is a recent graduate of Macau Anglican College while studying at Academia de Música S. Pio X, namely advanced piano under the tutelage of Evonne Lei, and violin with Cheong Wai Leong. She has participated in several contests, obtaining excellent results in Japan, Hong Kong and Macau. She earned her ABRSM degree of Violin in 2021 and of Piano in 2022. Next month she will study at the University of California for a BA in Piano Performance.
Aaron Lo (Lo Hou Long, 盧顥朗) also comes from the Macau Anglican College, where he is an active member of the school band, and studies at Academia de Música S. Pio X advanced piano with Evonne Lei, and classical saxophone with Hugo Loi. In addition to many awards and first prizes in high-level competitions in Macau, Hong Kong and the Asian region, in 2017 and 2018 he achieved the highest marks in the ABRSM 5 and 6 Alto Saxophone exams. In 2022, he earned his ABRSM 8 diploma of Piano Performance with distinction and received an offer from the Royal Northern College of Music (RNCM), where he will follow in September for a BA in Saxophone Performance.
This summer concert will last just over an hour and has the important partnership of MMAS (Macau Music Arts Space) and IAA (Macau Interdisciplinary Arts Association), co-organizing the event, two institutions created in 2020 to promote local music and cultural exchange between artists and the community.
Admission is free.
Don't miss it!
For Macau, Further and Higher!
Program – Midsummer Music Encounter – 曾彥童  鄭心研  盧顥朗鋼琴獨奏會 – 17.08.2022
Artists Biography