"Scenes of Macau" . Joint Art Exhibition by GuYue and Associates – 2022.05.10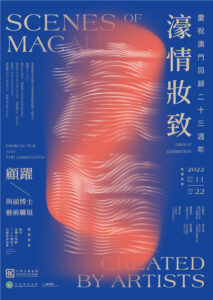 The group consists of 8 artists – Professor GuYue and seven of his Master and PhD undergraduates – Li Min, Choi Souhong, Zheng Zicheng, Hu Xindi, Tan Wanfang, Guo Jiehua and Song Wei. Together they will showcase around 30 art pieces of diverse influences and resources. The applied media covers various materials such as sculpture, installation art, visual image, graphic painting, lacquer, watercolor, oil painting, acrylic, traditional Chinese ink painting, etc. «These pieces convey numerous features of contemporary arts, such as the shape, structure, time, space, theatricalization and post production, trends that are revealed through several dimensions, ideas and concepts», according to the artists' exhibition manifest.
For these artists, «the theme "Scenes of Macau" is the backdrop that welcomes the students of Arts when they begin their learning journey, starting to observe and developing feelings for the surrounding landscape. These wanderers who come to Macau to study express their thoughts of the local images and local people through diversified media and language. Their concepts derive from the rich individuality and diversity from one another, while being similar in the universality of this Macau immersion».
GuYue graduated in 2008 from the Department of Painting at the Academy of Art&Design, in Tsinghua University, with a PhD degree in Visual Art. From 2009 to 2015, he was a painter, an associate research fellow, and a curator at the National Museum of China. Since 2015, Gu became an associate Professor at the Faculty of Humanities and Arts at the Macau University of Science and Technology (MUST). His teaching and research areas are Contemporary Art Theory and Practice, and Art Management and Cultural Heritage Mapping.
Gu is a guest researcher of the Center for Visual Studies at Peking University, China; and a member of the Chinese Artists Association. He published five books and has participated in quite a few large-scale exhibitions at home and abroad. He is also Editor of the Yearbook of Chinese Contemporary Art.
The artworks will be on display until May 22nd, 2022.
Don't miss it!
For Macau, Further and Higher!