"Portuguese Letters: A Woman's Love" – 2022.05.05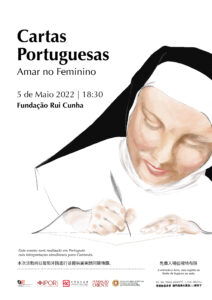 The Rui Cunha Foundation will co-organize on Thursday, May 5th at 6:30pm, at the FRC Gallery venue, a Conference celebrating the World Day of the Portuguese Language, under the theme "Portuguese Letters: A Woman's Love", in partnership with the Macau Bookworms Association, IPOR-Instituto Português do Oriente, Orient Foundation and the Consulate General of Portugal in Macau and Hong Kong.
The "Portuguese Letters" date from 1664 and were attributed to Mariana Alcoforado, a nun from the Convent of Beja, who wrote them to De Chamilly, a French soldier who fought for Portugal in the War of Restoration.
It is a document of exacerbated romanticism, the result of an absolute passion and dedication, which deserved comments from writers such as Stendhal and Rousseau. Perhaps this is why it has become a masterpiece of universal literature and was consecrated as a testimony of profound love. Despite its classicism, it has aroused great interest in the field of arts: theatre, cinema and opera.
In order to expose this great literary work, the following speakers were invited to participate in the session: Victor Correia (Lisbon, via zoom) with the theme "As Cartas Portuguesas – To love in Portuguese and in the feminine"; Leonor Diaz de Seabra (in person at FRC) with "Mariana Alcoforado and her time"; Luciana Barboza (Brazil, via zoom) with "Portuguese letters at play – Emotion on stage"; Myriam Cyr (Canada, via zoom) with "Letters of a Portuguese Nun – Uncovering the Mystery behind a 17th Century Forbidden Love"; João Guilherme Ripper (Brazil, via zoom) with "Compositional procedures in the opera 'Cartas Portuguesas'"; Shee Va (in person at FRC) with "Letter to a soul mate"; and Lawrence Lei (in person at FRC) with "A perfumed dream".
The session will be held in Portuguese, with simultaneous interpretation into Cantonese.
Admission is free.
Don't miss it!
For Macau, Further and Higher!