"Kids' Heart, Kids' Music" . Strings Concert – 2022.04.30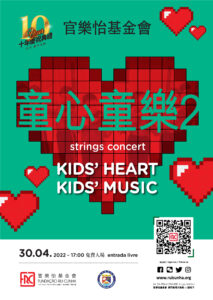 The Rui Cunha Foundation presents on Saturday, April 30 at 5:00pm, a Strings Concert entitled "Kids' Heart, Kids' Music", performed by students from 2nd to 6th grade of Primary School at Macau Baptist College.
In this concert, around 40 students aged between 8 and 12 will perform in small ensembles or solo, presenting repertoire from different periods and musical styles, composed for string instruments, namely violin and viola.
The event will also include music selected by the British Royal Music Examination, giving students who are preparing for the exam the opportunity to rehearse together and gain stage experience with their performances.
Under the guidance of music teachers Christine Sou and Alex Leong, students will perform 14 pieces, written by great composers such as Ludwig van Beethoven, François-Joseph Gossec, Gabriel Fauré, George Frideric Handel, Carl Bohm, Johann Sebastian Bach, Pyotr Ilyich Tchaikovsky, Wolfgang Amadeus Mozart, Lionel Bart, Antonio Vivaldi, among others.
Musical education is a teaching area that Macau Baptist College has always been gratified to implement in its learning curricula. Since 2006, elementary school has offered instrumental music classes to new students, so that everyone has the opportunity to learn an instrument. The aim is to allow children to receive a musical education from an early age, improving their artistic ambitions and cultivating learning practices that require precision, perseverance and regular training, which helps to stimulate a sense of confidence and resilience during the growth process.
This session will be held in Cantonese.
Admission is free, subject to room capacity.
Don't miss it!
APRIL, TIME TO CELEBRATE
For Macau, Further and Higher!