"Let's Get Justice VIII: Corruption" – 2022.04.28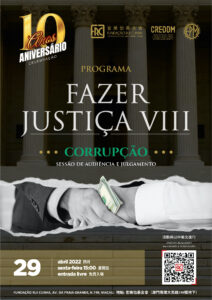 The Rui Cunha Foundation and the Macau Portuguese School (EPM) present on Friday, April 29 at 3:00pm, one of their most emblematic projects: the program Let's Get Justice – VIII Edition, a high-school mock court trial dedicated in 2022 to the theme of "Corruption".
On the occasion of FRC's 10th Anniversary, and after two years of interregnum, this event is once again included in the April Celebrations plan, with the unconditional support of EPM since the first session.
The CRED-DM – Center for Reflection, Study and Dissemination of Macau Law of the Foundation aims, through this annual initiative, to introduce young high-school students to the essential foundations of Law and Justice, as well as to help them understand the Macao's legal system.
The students, previously selected by EPM, were entrusted with a mock case to solve, through the construction of character roles, submitted evidence and the whole scenario of a real trial.
The Hearing and Judgment Session will be reproduced live by the young participants at the FRC Gallery, under the essential guidance of distinguished Magistrate, Dr. Carlos Carvalho.
The event is public, with free admission, and will be broadcast live via FRC Facebook. The participants shall speak in Portuguese and Cantonese.
Don't miss it!
APRIL, TIME TO CELEBRATE
For Macau, Further and Higher!