"Corporate Social Responsibility: The Next Level" – 2022.04.25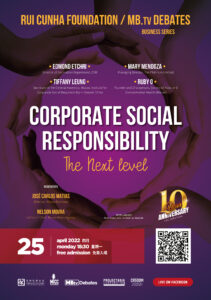 The Rui Cunha Foundation and MBtv Debates present today, April 25th at 6:30pm, a conference entitled "Corporate Social Responsibility: The Next Level", as part of MBtv's Business Series cycle, a partnership between FRC, Macau News Agency and Macau Business.
More than a catchword, Corporate Social Responsibility (CSR) has become a key component of business operations worldwide.
In Macau, top business agents are increasingly aware of the importance and necessity for Corporate Social Responsibility and Sustainability measures. How can it be conducted on a more professional level? How to manage CSR correctly? What roles can the Government, business and civil society play?
Such issues will be addressed at this first conference of 2022, which will feature the following speakers: Edmond Etchri, Director of Production, CEM; Mary Mendoza, Executive Director, The Platinum Limited; Ruby O., Founder and President, Society of Food and Environmental Health (Macao) and Tiffany Leung, Secretary of the General Assembly, Greater China Macao Social Responsibility Institute.
The session will be moderated by Nelson Moura and José Carlos Matias and will be held in English at the FRC Gallery.
The debate will also be broadcast live on the Rui Cunha Foundation Facebook page, and on the MBtv Facebook page.
Admission is free, subject to room capacity.
Don't miss it!
APRIL, TIME TO CELEBRATE
For Macau, Further and Higher!