"10th Anniversary of Rui Cunha Foundation" . Collective Art Exhibition – 2022.04.20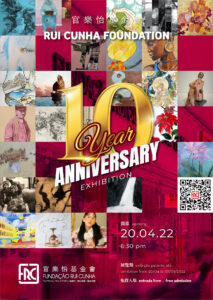 The Rui Cunha Foundation opens on Wednesday, April 20, 2022 at 6:30pm, a Collective Art Exhibition that celebrates the "10th Anniversary of the Rui Cunha Foundation", bringing together different representative works by «36 artists whose origins, styles and professional careers share a common link with Macau and an intrinsic connection to this Gallery», as can be read in the proposal for this special project.
«Through this heterogeneous group of works, which reflect the multiple perspectives of a history built over 10 years, the artists show their art through diversified works that are enhanced by their personal creative processes. This offers to the public an illustrative and distinctive collective panorama of the classical and contemporary aesthetics of the artistic universe of Macau's plastic arts, in its most varied forms and textures, which fit perfectly into the environment of this Foundation, itself surrounded by stories», according to the same manifest.
There are new pieces and a few old ones, each author being given complete freedom to create. Participating in this project, in alphabetical order, are Álvaro Barbosa, Andre Lui, António Duarte Mil-Homens, Arlinda Frota, Aya Lei, Benson Lam, Cai Guojie, Cathy Cheong, Chan Cheok Yu, Denis Murrell, Fortes Pakeong Sequeira, Gigi Lee, Gonçalo Lobo Pinheiro, GuYue, Heidi Ng, Hong San San, Ieong Weng Ian, Ines Chan, Jet Wu, John Leung, José Basto da Silva, Kam Chin Lei, Lai Sio Kit, Lai Sut Weng, Lampo Leong, Lee Chau Peng, Mel Cheong, Meng Li, Nuno Veloso, Rafaela Silva, Rhys Lai, Sou Kim Leoung, Stella Fong Hoi Lam, Todi Kong de Sousa, Wang Lan and Wong Soi Lon.
This exhibition heralds the Foundation's 10th Anniversary, opening the doors to invite the local public to come and celebrate with us such an important historic milestone, which is intended to embody «the continuation of a long and fruitful work in the service of arts and culture, in perfect symbiosis with the spirit of Macao and its People».
The art works will be on display until May 7, 2022.
Don't miss it!
APRIL, TIME TO CELEBRATE
For Macau, Further and Higher!