Saturday Night Jazz . "The Zé Eduardo Disciples" – 2022.04.23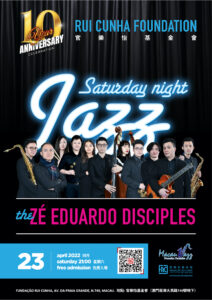 The Rui Cunha Foundation presents on Saturday, April 23 at 9:00pm, the FRC Anniversary Special "Saturday Night Jazz" that will feature "The Zé Eduardo Disciples", a group of prominent local jazz musicians who got together as apprentices of the Portuguese Master.
As in previous years, this celebration will honor Zé Eduardo, a good friend of FRC and mentor of the Macau Jazz Promotion Association. Although he has not been to Macau for the last couple of years, he will be represented by his former students and disciples who have prepared a selection of good music and party vibes to commemorate such a long-standing friendship.
The Zé Eduardo Disciples is currently a group of 11 local great musicians, namely Mars Lei, Ao Chon Fai, Johnny Yau, Kaman Chang, Alex Cheng, Carmen Ip, Jackson Wong, Kabi Ho, Roy Tai, Wong Un Tung and the vocals of Carol Chin. For this concert they shall be delivering lively and uplifting jazz pieces by Thelonious Monk, Buster Williams, Wayne Shorter, John Coltrane, Freddie Hubbard and more.
The Macau Jazz Promotion Association, co-organizer of the event with Rui Cunha Foundation since 2014, is formed by jazz lovers who have been exploring different styles of this musical genre, within a scope of multiple projects aimed at youth and others.
Admission is free, but subject to the health recommendations implemented by local authorities.
Don't miss it!
APRIL, TIME TO CELEBRATE
For Macau, Further and Higher!