II Chinese Culture Week – 7~12.03.2022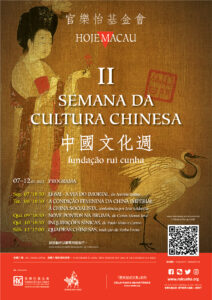 The Rui Cunha Foundation is hosting, from March 7th to 12th, the 2nd Chinese Culture Week, organized by the local Portuguese language newspaper Hoje Macau, in collaboration with the publisher Livros do Meio.
For five days, from Monday to Saturday, with an interruption on Friday, the Portuguese-speaking population of Macau will get in close contact with the Chinese Culture.
On Monday, March 7th at 6:30pm, the session opens with music and poetry, with the performance of "Macau String Trio" musicians, followed by the launch of a book about the most famous of Chinese poets, "Li Bai – A Via do Imortal", translated by António Izidro, with a presentation by Frederico Rato.
On Tuesday, March 8th, International Women's Day, we will have the opportunity to attend a lecture by Professor Ana Saldanha entitled "The female condition from Imperial China to Socialist China: socio-political and legal evolution of Chinese women".
On Wednesday, March 9th , the book " Nove Pontos na Bruma – textos sobre a China ", by Carlos Morais José, will be launched, and presented by José Carlos Matias.
On Thursday, March 10th the book "Inquirições Sínicas" by Paulo Maia e Carmo will be released, with a presentation by Dr. Shee Va.
After a break on Friday, Saturday 12th, the 2nd Chinese Culture Week ends on Saturday with Chinese music and the launch of the book "Quadras Chinesas", a translation by Cape Verdean poet Zerbo Freire, the first time that a native of Cape Verde directly translates poems from the Tang dynasty from Chinese into Portuguese, with a presentation by Yao Jingming.
All sessions start at 6:30 pm, except on Saturday, which starts at 5:00 pm.
The Chinese Culture Week is held in Portuguese, with simultaneous interpretation at the events that take place on the 7th, 9th and 12th of March.
Entrance is free.
We count on everyone in this important event for the culture of Macau and its People.