"Chinese Painting on Paper Fan" Workshop – 2022.03.05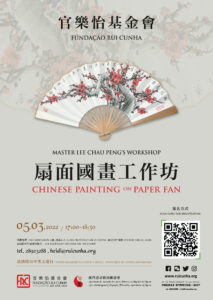 The Rui Cunha Foundation invites everyone this Saturday, March 5th at 5:00pm, to participate in a Workshop of "Chinese Painting on Paper Fans", with Master Lee Chau Peng (李秋平), who will once again present a DIY session, dedicated to teaching basic techniques to adults with no experience, but interested in learning.
The workshop will take place at the FRC Gallery, in a learning and experimentation environment, where apprentices will be challenged to paint according to the methods and colors used by the Master in his artistic creations. The initiative is limited to 25 participants, upon prior registration to guarantee a place. Materials are free.
«In ancient times, calligraphers and painters of all dynasties fluently painted or wrote on the fan's surface to express feelings, which some used to keep in collections or offered as gifts and souvenirs to friends», explains Lee Chau Peng on his proposal.
Fan painting is «one of the traditional art forms with a long history in China. Several literati and writers, who were especially skilled in these techniques, were considered as bright as stars. Among them, there are many exceptional and otherworldly masterpieces, which have become an important part of the treasure house of Chinese culture and art», namely the folding fans in the Ming and Qing dynasties, according to the Master.
Lee Chau Peng is a well-known local calligrapher and painter, and President of the Arts, Painting and Calligraphy Friendship Association of Macao (澳門書畫藝術聯誼會). Born in 1959, the artist began his career as an interior designer, graduated from the Hong Kong Institute of Design and Industry. But his passion for the arts dates back to childhood, having learned Chinese painting and calligraphy under his father's influence when he was six years old.
The Workshop will be presented in Cantonese and English. Registration is free, up to 25 people (maximum), by email: heidi@ruicunha.org, phone: 28923288 or via the link: https://docs.google.com/forms/d/e/1FAIpQLSdr0UK19S8_Y57hOG9rQDU2RvwdoMWunseXPFlS57MVtwam8Q/viewform .
Don't miss it!
For Macau, Further and Higher!