"Fausto Sampaio, the Painter of the Empire in Macau" – 2021.11.11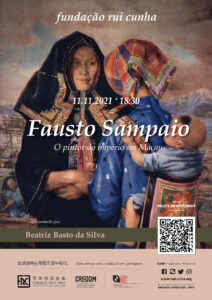 The Rui Cunha Foundation and the Macau Bookworm's Association present on Thursday, November 11th at 6:30pm, a conference on "Fausto Sampaio, the Painter of the Empire in Macau", under the series "Notebook of Stories", led by historian Beatriz Basto da Silva with special participation of Maria Teresa Paulo Sampaio Costa Macedo, daughter of the renowned Portuguese artist.
Beatriz Basto da Silva – via Zoom, from the city of Coimbra, Portugal –, will talk about the life and work of the Portuguese painter, born in Anadia on April 4, 1893, and deceased on the same date in 1956, after a long career dedicated to the arts, passing through the former Overseas Provinces, including Macau. His work encompasses the material of canvas and paints, the physique of landscape, color, light and human anatomy, which his brush and spatula transformed into a message of humanism and discovery of the divine spirit. In this regard, Lo-Po-San said: «Fausto Sampaio's brush has eyes, brain and soul».
Maria Teresa Paulo Sampaio Costa Macedo, will also talk to us – via Zoom, from Lisbon – and will provide the public with the opportunity to get to know some of the family's paintings, a hidden and unknown treasure for many eyes. In fact, several of Fausto Sampaio's works belong to private collections outside the Macao SAR territory and it would be interesting to have them in an exhibition at the Macao Museum of Art.
Admission is free, but subject to health recommendations implemented by local authorities.
Don't miss it!
For Macau, Further and Higher!