Saturday Night Jazz . "Halloween Special Dress Up Party" – 2021.10.30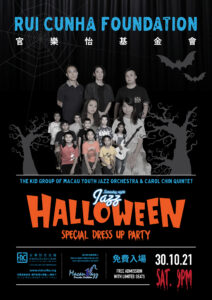 The Rui Cunha Foundation presents the popular "Saturday Night Jazz" concert on Saturday, October 30th at 9:00 pm, this time under the title "Halloween Special Dress Up Party". After a few months with sessions canceled due to external factors, the long-awaited show returns to the Gallery's stage with the Kids Group of Macau Youth Jazz Orchestra and the Carol Chin Quintet, to rock this spooky thrilling night.
The Macau Jazz Promotion Association (MJPA), co-organizer of the event since 2014, brings two bands together in this show, formed by young jazz lovers who are learning to explore different styles within the musical genre, as part of multiple MJPA projects aimed at local youth and regional exchange of talents.
According to Mars Lei, the President of the MJPA, this will be a «night of music and fun», in which the artists promise to play «body moving tunes» for the public to come all dressed up and «celebrate in great style".
Animation is guaranteed, so start preparing your Halloween scary costume now!
Admission is free but subject to health recommendations implemented by local authorities.
Don't miss it!
For Macau, Further and Higher!