Macao in the Movies . "Shanghai Surprise" – 2021.06.22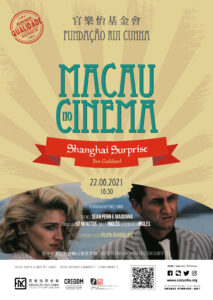 The Rui Cunha Foundation presents next Tuesday, June 22, at 6:30 pm, the fourth of a series of nine films, under the theme "Macao in the Movies".
For this fourth session we chose "Shanghai Surprise", a 1986 film, directed by Jim Goddard and produced by ex-Beatles' George Harrison.
Sean Penn is Glendon Wasey, a fortune hunter looking for a quick way out of China. Madonna is Gloria Tatlock, a determined missionary nurse who seeks the powers of opium to heal her sick patients. She wants to help those who are suffering. He wants the boat to return to the United States. Thus, fate takes them on a hectic, exotic and very romantic search for stolen drugs. The problem is that opium is wanted by all the smugglers and murderers in Shanghai.
"Shanghai Surprise" portrays an adventure set in the Shanghai of the late 1930s, during the Japanese occupation. Macau was the location chosen by the entire technical team for the outdoor recordings, bringing to the territory the newlyweds Sean Penn and Madonna, two American stars whose personalities, quite extravagant for the time, stirred up everything around them.
The session will take place at the Gallery of the Rui Cunha Foundation, and will be preceded by a short presentation by Filipa Guadalupe.
The film is spoken in English, with English subtitles, and 97 minutes long.
It is not recommended for children under 18 and is prohibited for children under 13 (Group C).
Admission is free, but subject to capacity limitation, in accordance with the health recommendations implemented by local authorities.
Don't miss it!
For Macau, Further and Higher!
On the news: