Nam Van Sound Waves . Bel Canto, Piano & Strings – 2021.06.19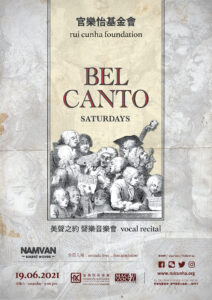 The Rui Cunha Foundation presents next Saturday, June 19 at 5:00 pm, a session of "Bel Canto, Piano & Strings", included in the series of musical concerts "Nam Van Sound Waves", this month with special guests: the students from Macau Cham Son School.
The program for this late afternoon, curated by the Macau Vocal Association, has selected the voices of sopranos Ivy Lee and Cora Lei, accompanied on the piano by Coris Cheong, to interpret pieces by Samuel Barber, Giulio Caccini, Franz Schubert, Wolfgang Amadeus Mozart, Giacomo Puccini and Andrew Lloyd Weber.
The Macau Baptist Cham Son School is the invited attraction for this session. The students will present a diverse performance, vocal or instrumental, for piano and strings. The violin, viola and cello are highlighted, alongside the piano, featuring great Chinese classics and musical themes by Wolfgang Amadeus Mozart, Johann Christian Bach, Camille Saint-Saënz and Madeleine Dring.
Bel Canto is considered the ultimate expression of the human voice. The Italian term was coined in the 18th century. This vocal technique emphasizes the beauty of sound and the technical capacity of the artist, instead of the dramatic expression or romantic emotion, being still taught today in a similar way as in the past.
Admission is free, but subject to limited capacity, in accordance with the health recommendations implemented by local authorities.
Don't miss it!
For Macau, Further and Higher!
On the news: