Book Presentation "Ancient and Classical Chinese Literature" – 2021.06.16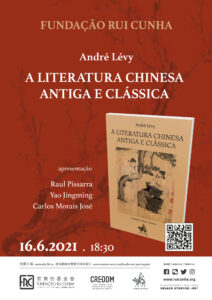 The Rui Cunha Foundation will host next Wednesday, June 16, at 6:30 pm, the presentation of the book "Ancient and Classical Chinese Literature", written by André Lévy and translated by Raul Pissarra, under the publisher's seal of Livros do Meio.
Chinese literature plunges its origins deep into time.
The book starts from that remote period and travels a long way up to the early years of the 20th century, during the advent of Modernity.
Along the way, we find some of the most beautiful texts produced by humanity, thanks to the excellent writers, and we acknowledge the reflections of a complex civilization, a bumpy history and a culture characterized by its depth and erudition.
This book by André Lévy provides us with a fundamental introduction to a form of literature, whose influence is evident in the Orient, yet urges to be discovered and understood by Portuguese speakers.
The session will be held in Portuguese with the participation of Raul Pissarra, Yao Jingming and Carlos Morais José.
Admission is free, but subject to limited capacity, in accordance with the health recommendations recently implemented by local authorities.
Don't miss it!
For Macau, Further and Higher!
On the news: