Real Estate in Macau – 2020.08.13
Real Estate in Macau: Time of uncertainty?
August 13, 6pm (GMT+8)
Co-organization: Rui Cunha Foundation and MBtv Debates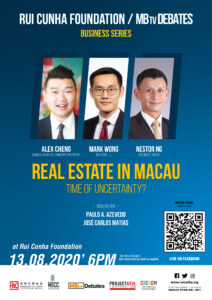 Speakers:
Alex Cheng – General Manager Ambient Properties
Mark Wong – Director JLL
Nestor Ng – President Anzac
Moderators:
Paulo A. Azevedo
José Carlos Matias
The Rui Cunha Foundation and MBtv Debates will hold on the 13th of August, at 6 pm a conference a Webinar on Real Estate in Macau: Time of uncertainty? Inserted in Business Series of MBtv Debates.
In the midst of a global health pandemic that is causing world economic devastation and creating new social paradigms, there are industries that are re-evaluating their viability and sustainability, while citizens are considering more carefully where to invest their financial resources.
One of the main priorities remains real estate.
Having a home is essential for any family but, in societies like Macau, where lack of space is one of the main characteristics, making real estate investments has been a safe option to ensure the future, given the certainties of a medium and long-term financial return. This is despite the high costs of residential and commercial fractions.
However, are the uncertainties of the new times also shaking these fundamentals?
What is the real impact of this economic tsunami caused by microscopic beings on the Macau real estate market, affected by the devastation of gambling revenues and the collapse in tourism that is unable to cross closed borders?
What future is being built in Hengqin? Complementarity or competition?
Three real estate experts analyze the pros and cons and the evolution of the market in Macau.
Time to buy or sell? When is the best time to renegotiate rents, and what responsibility does the government have to ensure the stability of the sector alongside purchasing power?
Real estate in Macau: time of uncertainty or resilient sector that manages to navigate an ocean of difficulties is what MBtv debates on Thursday 13 August, at 6.00 pm, in the auditorium of the Rui Cunha Foundation, in a partnership between Rui Cunha Foundation and Macau International Conferences and Conventions Association.
This conference is broadcasted on FRC Facebook page and MBtv Facebook page.
The speeches will be delivered in English.
If you wish to participate on the Q&A, please make your registration using the Zoom Webinar link https://zoom.us/webinar/register/WN_7cxOzSaIRbKnptRdZWrKcw
Entry is free, but subject to limitation due to compliance with the regulatory health measures in force.
Don't miss!
For Macau, Further and Higher!