Boyfriend For My Wife – 2023.11.15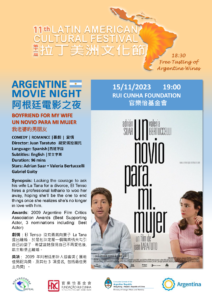 The Rui Cunha Foundation presents today and tomorrow, Wednesday and Thursday, November 15th and 16th at 7:00pm, the Latin American Cinemaseries as part of the 11th Latin American Cultural Festival – 2023, in partnership with the Macao Association for the Promotion of Exchange between Asia-Pacific and Latin America (MAPEAL) and the Consulate General of Argentina in Hong Kong, similarly to previous years.
Today's film, on November 15th, is from Argentina – "A Boyfriend for My Wife"(Un Novio para Mi Mujer, 2008) –, directed by Juan Taratuto, and scheduled for 7:00pm. The screening has 96 minutes of duration and is spoken in Spanish with English subtitles.
The plot focuses on a man who finds a very unusual way to get rid of his wife. In Buenos Aires, the smalltime merchant Diego "Tenso" Polsky (Adrián Suar) has a boring life with his unpleasant wife Andrea "Tana" Ferro (Valeria Bertuccelli), who is constantly in a bad mood. Tenso does not have the courage to leave her, so his friend Carlos (Marcelo Xicarte) suggests him to manipulate his wife into divorcing him. They meet the womanizer Cuervo Flores (Gabriel Goity) and Tenso hires him to seduce his wife and gets a job for her in a small radio station. Has Tenso finally found the solution to his problem?
Tomorrow, November 16th at 7:00pm will be exhibited the second film, also from Argentina – "The Distinguished Citizen" (El Ciudadano Ilustre, 2016) – directed by Mariano Cohn and Gastón Duprat. The screening will run for 118 minutes, in Spanish with English subtitles, starring well-known actor Oscar Martínez in the leading role. The film has won various prizes, including the "Silver Condor" for Best Actor at the Argentine Film Critics Association Awards (ACCA) in 2017, where it was nominated for 4 other categories.
The sessions will take place at the FRC Gallery, where the audience will be served tastings of Argentine Wine starting at 6:30pm, before the screenings, with sponsorship from the Consulate General of the Argentine Republic in Hong Kong.
Admission is free.
Don't miss it!
For Macau, Further and Higher!
11 th LATIN AMERICAN CULTURAL FESTIVAL
盞拉丁美洲文化節
18:30
Free Tasting of Argentine Wines
ARGENTINE MOVIE NIGHT
阿根廷電影之夜
BOYFRIEND FOR MY WIFE UN NOVIO PARA MI MUJER
我老婆的男朋友
COMEDY | ROMANCE |喜劇| 愛情
Director: Juan Taratuto #3##B#
Language: Spanish|西班牙語
Subtitles: English |英文字幕
Duration: 96 mins
Stars: Adrian Suar • Valeria Bertuccelli
Gabriel Goity
Synopsis: Lacking the courage to ask his wife La Tana for a divorce, El Tenso hires a professional lothario to woo her away, hoping she'll be the one to end things once she realizes she's no longer in love with him.
Awards: 2009 Argentine Film Critics Association Awards (Best Supporting Actor,
3 nominations including: Best
Actor)
劇情:EI Tenso 沒有勇氣向妻子 La Tana
提出離婚,於是他決定雇一個職業情夫勾引自己的妻子.希望當她發現自己不再愛他後,能主動提出離婚。
獎項:2009 年阿根廷影評人協會獎(獲最佳男配角獎,及其他3 項提名,包括最佳男主角獎)。