Healing Garden – 2023.11.14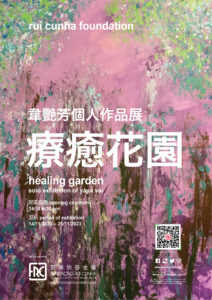 The Rui Cunha Foundation presents on Tuesday, November 14th at 6:30pm, the Solo Exhibition by Yaya Vai, titled "Healing Garden", showcasing around 30 paintings in different styles, from realistic to abstract, by the local artist who attempts many variations of the theme of healing and relaxation, depicting flowers and colors within the compositions of beautiful gardens.
Yaya Vai was inspired by the stories of the flower fairies when she was a child. «Healing Garden is not necessarily a physical garden, it may be a space in your heart, a good memory», reveals the exhibition manifesto.
"In modern societies, we are often overwhelmed by fast-paced life and often feel stressed and tired. However, people have begun to realize the importance of physical and mental health and seek various ways to relieve stress and relax. Among them, painting is a way to relieve stress, at least for me», she commented.
For this exhibition, Yaya aims to "bring calmness to the audience, getting rid of their pressure and tension of daily life temporarily, and immerse in the beautiful garden world. The idea is to feel the tranquilization and harmony of nature, reconnecting and regaining energy». Being fond of flowers, «her artworks are inspired by floral and female topics. To her, art is a way to reduce stress, and she hopes her work can encourage the concern on women's emotional health».
The artist was born in Macau and has a Master Degree in Business Administration. Initially, Yaya Vai started learning pencil sketching and oil painting as an interest and later obtained the Certificate in Visual Art Marketing and Management. Her artworks have been selected and displayed in many joint exhibitions in Macau.
The exhibition will be displayed until November 25th, 2023.
Admission is free.
Don't miss it!
For Macau, Further and Higher!