The Distinguished Citizen – 2023.11.16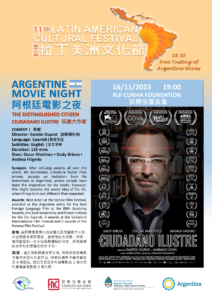 The Rui Cunha Foundation presents today, Thursday, November 16th at 7:00pm, the second and last film of the Latin American Cinema series – titled "The Distinguished Citizen" (El Ciudadano Ilustre, 2016, Argentina) and directed by by Mariano Cohn and Gastón Duprat – as part of the 11th Latin American Cultural Festival – 2023.
Similarly to previous years, this is a partnership with Rui Cunha Foundation, the Macao Association for the Promotion of Exchange between Asia-Pacific and Latin America (MAPEAL) and the Consulate General of Argentina in Hong Kong.
Today's film tells the story of a winner of the Nobel Prize for Literature, Mr. Daniel Mantovani (Oscar Martínez), who has been living in Europe for decades. After refusing big and prestigious awards all over the world, he accepts an invitation to receive another award in his hometown. But in Argentina he finds both similarities and irreconcilable differences with the people from his background, who have been the inspiration for all his books. It turns out that accepting this invitation wass the worse idea of his life. Expect the unexpected when you have used real people as characters in your novels.
The screening will run for 118 minutes, in Spanish with English subtitles. Starring well-known actor Oscar Martínez, the film has won various prizes, including the "Silver Condor" for Best Actor at the Argentine Film Critics Association Awards(ACCA) in 2017, where it was nominated for 4 other categories.
This session will take place at the FRC Gallery, where the audience will be served a tasting of Argentine Wines starting at 6:30pm, before the screenings, sponsored by the Consulate General of the Argentine Republic in Hong Kong.
Admission is free.
Don't miss it!
For Macau, Further and Higher!

11th LATIN AMERICAN CULTURAL FESTIVAL
盞拉丁美洲文化節
18:30
Free Tasting of Argentine Wines
ARGENTINE • MOVIE NIGHT . 阿根廷電影之夜
THE DISTINGUISHED CITIZEN . CIUDADANO ILUSTRE . 玩謝大作家
COMEDY |喜劇
Director: Gaston Duprat 加斯頓杜柏
Language: Spanish|西班牙語
Subtitles: English |英文字幕
Duration: 118 mins
Stars: Oscar Martínez • Dady Brieva •
Andrea Frigerio
Synopsis: After refusing awards all over the world, Mr Mantovani, Literature Nobel Prize
winner, accepts an invitation from his hometown in Argentina, whose people have been the inspiration for his books. However, this might become the worse idea of his life, when things turn out different than expected.
Awards: Best Actor at the Venice Film Festival, selected as the Argentine entry for the Best Foreign Language Film at the 89th Academy Awards, the Best Screenplay and 9 nominations for the Sur Awards. 3 awards at the Valladolid International Film Festival and 2 awards at the
Havana Film Festival.
劇情:諾貝爾獎得獎小說家曼托瓦尼離鄉大半生•決定重返老家阿根廷,接受傑出市民獎。然而,這可能是他一生中做過最糟糕的決定,因為事情的結果和他想像的完全不同。
獎項:威尼斯影展最佳男主角,阿根廷競逐奧斯卡最佳外語片代表作品,阿根廷奧斯卡最佳劇本及9項提名,西班牙瓦拉多利德電影節3項大獎和夏灣拿電影節2項大獎。