Music Rhapsody: Macau Young Musicians – 2023.09.15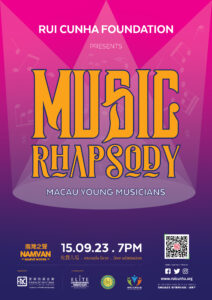 The Rui Cunha Foundation presents on Friday, September 15th at 7:00pm, a session of the Nam Van Sound Waves series, titled "Music Rhapsody: Young Musicians of Macau", organized by FRC and co-organized by the Elite – Association for Creativity and Music Culture, the Macau Youth Art Exhibition Association and the Association of Asia Pacific Educational and Cultural Exchange.
The program will bring together 14 young musicians on stage, from the three Associations, aged between 5 and 15, to perform classics of Piano, Ghuzheng, Harp and Vocals. In addition to Chinese composers and some contemporary themes, the repertoire also includes pieces by Domenico Scarlatti, Muzio Clementi, Marcel Grandjany, Alberto Ginastera, among others.
The event was planned with the aim of providing a platform for young musicians to showcase their talents, accumulate performance experience and communicate with other young musicians, sharing practices and knowledge across institutions dedicated to promoting and teaching music in the territory.
The session will be presented in Chinese language.
Admission is free.
Don't miss it!
For Macau, Further and Higher!
Program – Nam Van Sound Waves – Music Rhapsody – 15.09.2023