Can Macau Work From Home? – 2023.09.13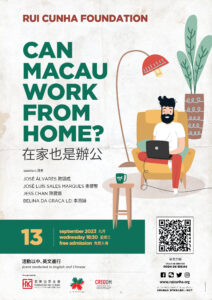 The Macanese Youth Association (Associação dos Jovens Macaenses – AJM) and Rui Cunha Foundation will organize a seminar titled "Can Macau work from home?" on Wednesday, 13 September 2023, at 6:30pm, at the Rui Cunha Foundation Gallery, where speakers José Álvares, José Luís Sales Marques, Jess Chan and Belina da Graça Lei will share their views on the topic of remote-working in Macau.
Work from home (WFH), or remote-work, played a crucial role throughout the COVID-19 pandemic, and became an essential work tool on a global scale.
As the world faced unprecedented restrictions and social distancing measures, companies and employees were faced with the need to find a quick yet effective solution to maintain their operations, without putting anyone's safety at risk.
Like so many other countries and regions, Macau also witnessed the adoption of remote-working in areas as diverse as real estate, education and even public services.
WFH proved to have had many advantages and undeniable benefits during the difficult period the world experienced, particularly in terms of maintaining the operation of businesses and in protecting the health of employees. Nevertheless, it is important to highlight that if we intend to continue adopting this method of work in the near future, we must take into account some of the its drawbacks, so that it is properly regulated to prevent and avoid any negative consequences.
With this in mind, and with the aim or reflecting a little more on the advantages and disadvantages of WFH, as well as the need (or not) for its specific regulations in Macau, AJM and Rui Cunha Foundation would like to invite members of the public to attend this session, held in English and Chinese.
Admission is free.
Don't miss it!
For Macau, Further and Higher!