Bel Canto MusicArt Special – 2023.07.08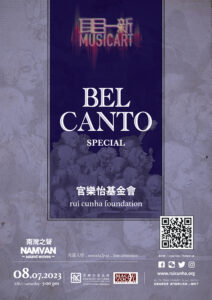 The Rui Cunha Foundation presents on Saturday, July 8 at 5:00 pm, a "Bel Canto MusicArt Special" recital, integrated in the series of musical concerts "Nam Van Sound Waves", co-organized by the Macau Vocal Association.
The solo concert will be performed by mezzo-soprano Edith Lao, a longtime member of the MVA who is now returning to the FRC stage with a program that includes musical pieces by German composers Robert Schumann, Felix Mendelssohn and Johannes Brahms, Austrian composer Franz Schubert and the Hungarian Franz Liszt, as well as selected arias from different operas, including "La Clemenza di Tito" by the Austrian Wolfgang Amadeus Mozart and "Il Barbiere di Siviglia" by the Italian Gioachino Rossini.
This session is a parallel activity to the "MusicArt" Exhibition, a cross-disciplinary experiment that intends to permeate the universes of art and music at the Gallery space. The concert is dominated by Bel Canto, with the selected repertoires all performed in the original language, before next week's concert of Jazz.
Edith Lao (劉婉薇) completed an advanced course in Vocal Music at the Macau Academy for Performing Arts, having studied with many Chinese and foreign vocal teachers. She has extensive experience in choral and solo performances. During her studies, she performed many times as a soloist in school and off-campus concerts, including as a soloist in concerts at the invitation of the Macau Orchestra, Coro Perosi and Macau Harmony Choir. She has also participated in large-scale concerts as a chorus member of the Macau Orchestra, such as the operas "Turandot" and "Falstaff" produced and brought by international companies to the Macau International Music Festival.
Furthermore, Edith Lao is also an experienced local stage actress. She won the Outstanding Actress Award in the 6th Macau Drama Festival, and has participated in dramatic performances at the Macau Arts Festival, often as a leading actress. In addition to local shows and concerts, she has performed on stage in cities such as Guangzhou, Shenzhen, Hong Kong, Taiwan and Portugal, and studied theater in Lisbon, Portugal. Edith Lao also actively participated on the backstage work, in different roles and positions. She studied Theater Management, Lighting Design and Stage Makeup in Hong Kong and Macau.
Admission is free.
Don't miss it!
For Macau, Further and Higher!
Program – Nam Van Sound Waves . Bel Canto MusicArt Special – 08.07.2023
.