Phoenix Rising: Making the Most of Tourism Revival – 2023.06.06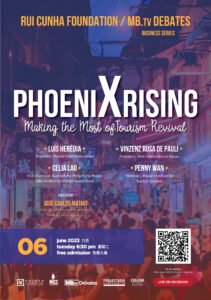 The Rui Cunha Foundation and MBtv Debates present tomorrow, Tuesday, June 6th at 6.30pm, a conference about "Phoenix Rising: Making the Most of Tourism Revival", inserted in the Business Series of the FRC/MBTV Debates, co-organized with the Macau Business magazine.
The panel of invited experts is composed of speakers Luís Herédia, President of the Macau Hotel Association; Célia Lao, Vice-Chairman of Guangdong-Hong Kong-Macao GBA Aviation Exchange Association; Vinzenz Rosa de Pauli, President of SKAL International Macau; and Penny Wan, Professor at the Macao Institute for Tourism Studies.
Macau's tourism industry has bounced back with a bang following the post-COVID reopening. As mass tourism returns, prospects for the local economy are once again bullish.
The case for upgrading the visitor experience is stronger than ever in an increasingly competitive regional and global landscape. Against this backdrop, the shortage of human resources and international connectivity take center stage and will be the trigger for this talk.
The session will be held in English, with the expected moderation by José Carlos Matias, Director of Macau Business and Macau News Agency. 
This conference will be broadcast live on FRC Facebook page, and on MBtv Facebook page. Nevertheless, please join us at FRC Gallery so you can contribute with your opinions and insights.
Admission is free.
Don't miss it!
For Macau, Further and Higher!