Chakra Illusion Utopia, Painting Exhibition by Alley Leong – 2023.05.30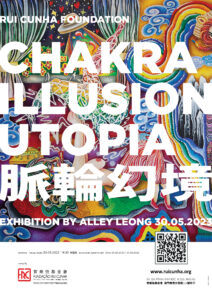 The Rui Cunha Foundation presents today, Tuesday, May 30th at 6:30pm, the Solo Painting Exhibition "Chakra Illusion Utopia", by Alley Leong, a young local artist who discovered her talent in the tattoo industry, where she started working and developing her professional technique, between Macau and Hong Kong. But the early years of the pandemic have made her return to the territory and to her family.
This exhibition gathers 24 oil paintings on canvas, as well as watercolors and acrylic paintings, with the detailed outline tattoo drawings and the vivid chakra colors, which convey her passion for chromatically saturated illustrations, evoking dreamlike images of the fantastic and the spiritual world.
«The first time I met Alley Leong, her skin was covered with various tattoos like an outfit worn by her body. Her body did not affect her creative potential and performance, but rather filled each of her gestures with vital energy and spirituality. She said openly: "From childhood, I was extremely introverted because of my appearance, and I was very rebellious during adolescence. It was only after starting to learn tattoo painting that I began to contact art, and gradually transformed my mentality". Painting became a way for her to express herself and explore life», explains Heidi Ng, curator of the exhibition.
In Hong Kong, as a tattoo artist Alley Leong began to see some affirmation in her gift for drawing and painting in vibrant colors, which would have a profound impact on her later artistic creations. During the pandemic, she moved back to Macao, formally embarking on her journey to become an artist.
For her debut solo exhibition, the artist took the theme of human chakra colors and inner self-awareness, using seven colors to represent the energy of images or objects. «In the creative process, she obtained inspiration from the subconscious and transformed it into symbols and images in her works. This state was similar to meditation, allowing her to deepen into the subconscious and communicate with her inner world. Her creativity was maximized, while she also gained a deeper understanding of her beliefs and further enhanced her artistic level of creation», considers the curator.
The exhibition will be open until June 10, 2023.
Admission is free.
Don't miss it!
For Macau, Further and Higher!

01.06.2023 – "Chakra Illusion Utopia" . Exposição de Pintura de Alley Leong – Telejornal