Photography in Free Style, by Tam Keng – 2023.03.07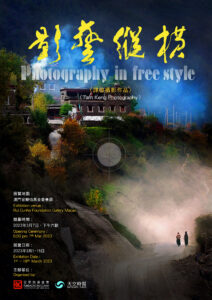 The Rui Cunha Foundation presents on Tuesday, March 7th at 6:00pm, the opening ceremony of "Photography in Free Style", Exhibition by Tam Keng (譚敬), gathering 30 high-quality images, taken over the past 10 years. All the works in this set are award-winning photos by the author, with some still unpublished. The artworks have been on display since the 1st of March at the FRC Gallery. The event is co-organized by the media group and publications Skyscape Times.

Tam Keng's images are «rich in content and show the author's deep artistic background», reflecting «the photographer's sincere feelings for real life and the beauty of nature», in addition to «truly expressing his personal taste, process of self- cultivation and attainments at a professional level», according to the information memo of this project.
For Tam Keng, «photography is not only an easy-to-learn art, it is also a way to understand the inner achievements that art can bring to a person. The pursuit of photography art is so much more: a kind of enjoyment and personal gratification». The artist says that "as long as there is light, it's possible to capture the moment". "Every piece of work I show, I hope it tells a story and creates an emotional connection. Even if I review it after a long time, it will always be a touching moment for me", are quotes by the author revealed by Paul Ao Leong, President of Skyscape Times, in the foreword of the exhibition.
Tam Keng was born in Shanghai, China. He moved to Macau in the early 1980sand, in 1988, established the "Art House", initially focused on advertising design. In 2000 he began to publish postcards and art books of his paintings and photographs "Macau Monuments". In 2016, he presented the solo exhibition "Photography", sponsored by the Macau Artists Promotion Program, and organized by the Macao Foundation. In 2018, he exhibited "Story of the Old Teahouse", an individual project hosted by the Macau Society of Digital Photography.
His photographic works have won gold medals from the Photographic Society of America (PSA), the Photographic Society of Great Britain (RPS), the International Federation of Photographic Art (FIAP) and other reputable institutions in several countries. Tam Keng is also President of the China (Macao) Overseas Chinese Photographic Society; President of the Macao Aerial Photography Association; Honorary President of Macao Photographers Union; and a Fellow Member of the Royal Photographic Society (ARPS), the International Federation of Photographic Art Outstanding Artists (EFIAP), the Photographic Society of Hong Kong (PSHK), the Photographic Society of Macau (PSM), and the Macau Digital Photography Association (MDPA).
The artworks will be on display at the FRC Gallery until March 18th, 2023.
Admission is free.
Don't miss it!
For Macau, Further and Higher!