How to become Good Leaders? – 2023.03.14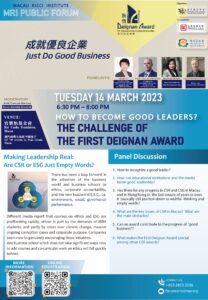 HOW TO BECOME GOOD LEADERS?
The Challenge of the First Deignan Award
Tuesday 14 March 2023
6.30 PM – 8.00 PM (GMT +8, Macau time)
Organizer: Macau Ricci Institute
Co-organizers: Rui Cunha Foundation, University of Saint Joseph
Speakers:
Stephan Rothlin S.J -Director Macau Ricci Institute
Prof. Dr. Rui Martins -Vice-Rector University of Macau; Judge of the 1st Deignan Award
Ruby O – FCIEH, MBA, Executive Director the Sustainability and ESG; Judge of the 1st Deignan Award
Mary Mendoza – Managing Director The Platinum Ltd
Moderator:
José Carlos Matias, Director Macau Business
About the session:
Macau Ricci Institute in a partnership between Rui Cunha Foundation and University of Saint Joseph will hold on the 14th of March, at 6.30 pm, a Forum on How to become good leaders? The Challenge of the first Deignan Award.
9 companies from Macau and 20 from Hong Kong did successfully apply for the First Deignan Award for Responsible Entrepreneurship.
The panel reunites Judges of the First Deignan Award from Macau so that the participants of the award and the broader public in Macau have the chance to meet those people who will pick the best small and medium sized company based on a set of criteria which has been developed by the Macau Institute for Corporate Social Responsibility in Greater China, MICSRGC.
The main questions of the podium will focus on the following issues:
▪ How to recognize a good leader?
▪ How can educational institutions and the media foster good leadership?
▪ Has there be any progress in CSR and ESG in Macau and in Hong Kong in the last couple of years or does it basically still just boil down to wishful thinking and empty words?
▪ What are the key issues of CSR in Macau? What are the main obstacles?
▪ Can an award contribute to the progress of "good business"?
▪ What makes the First Deignan Award special among other CSR awards?
Tuesday, 14th of March, 6.30pm, join us at Rui Cunha Foundation.
The speeches will be delivered in English and entry is free.
 Don't miss it
For Macau, Further and Higher!
Link for registration: https://forms.gle/TkofQdCxxcpvun4E8
Deadline of registration: 11 March 2023
For more information:
http://riccimac.org/index.php/en/component/djevents/details/2023-03-14/197-mri-forum-20230314