"Crossing Inner Borders – It's time to travel" – 2022.11.29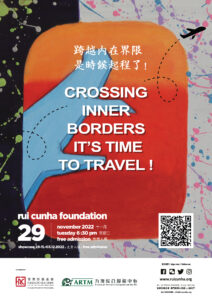 The Rui Cunha Foundation presents tomorrow, Tuesday, November 29th at 6:30pm, the Annual Arts Showcase "Crossing the Interior Frontiers – It's time to travel!", that will display paintings and ceramics created by about 20 participants in the process of recovery from the Ká Hó Integrated Services Center of ARTM – Association of Rehabilitation of Dependencies of Macau.
This year, the selection of handicrafts includes around 20 oil paintings, 10 watercolors and 50 ceramic pieces, many with Christmas motifs to buy as gifts for the festive season. In recent years, the arts have been an essential component in the daily life of the ARTM therapeutic community, through different activities and techniques, with a view to promoting the physical, mental, emotional, and spiritual healing of patients, allowing their growth throughout the process of individual change.
The motto for this edition was inspired by the phrase of Mozambican writer Mia Couto: «The journey does not start when you travel distances, but when you cross your inner borders». ARTM adds that «courage helps us to go through unknown places, which are inside of us and most of the time bring to our consciousness discomfort, pain and fear. And this happens because the inner borders hide places never traveled before. It's a long journey of experience and discovery of the "Me", "You" and "We". A journey where we learn to walk slowly, at our own rhythm, and there is no rush to arrive».
The display, which has been supported by FRC since 2020, is an important moment to celebrate the results achieved by each participant in their path of reintegration into the society. The Association of Rehabilitation of Dependencies of Macau is a local non-profit organization that offers therapeutic programs for recovering from drug and other addictions, such as gambling and alcohol. ARTM also develops guidance and follow-up services for former addicts, as well as primary prevention services for young people, families, schools, and the community, with a strong commitment to public health and human rights.
The artworks will be on display at FRC Gallery until December 3, 2022.
Don't miss it!
For Macau, Further and Higher!