Equinox Jam + Jazz Young Good Men – 2022.11.26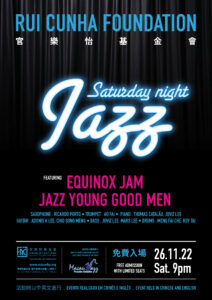 The Rui Cunha Foundation presents on Saturday, November 26 at 9:00pm, the popular concert "Saturday Night Jazz" at FRC Gallery, the last edition to be held in 2022, under the title "Equinox Jam + Jazz Young Good Men".
This session will show the presence of two adult formations. The Equinox Jam, a newly formed band composed by saxophonist Ricardo Porto, guitarist Adonis K Lee, pianist Joviz Lee, bassist Mars Lei and drummer Roy Tai, are expected to deliver a variety of blues and Latin repertoire.
After the intermission break, the Jazz Young Good Men will perform Japanese influences of bebop and music by Miles Davis. The band is led by Ao Fai on trumpet, with Chio Song Meng on guitar, Joviz Lee on bass, Meng Fai Che on drums, and the recently joined young pianist Thomas Catalão.
The Macau Jazz Promotion Association (MJPA) co-organizes this event since 2014, regularly mentoring and rehearsing many groups of jazz lovers, who explore different styles of this musical genre within the scope of projects aimed at local youth and for the regional exchange of talents.
Admission is free but subject to health recommendations implemented by local authorities.
Don't miss it!
For Macau, Further and Higher!