Confúcio: o Fundador da Tradição – 2022.10.21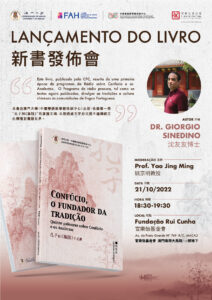 The Rui Cunha Foundation presents on Friday, October 21 at 6:30pm, the launch of the book "Confúcio, o Fundador da Tradição" (Confucius, the Founder of Tradition), by Giorgio Sinedino, a bilingual edition – Portuguese and Chinese – that is an initiative of the Chinese-Portuguese Bilingual Teaching and Training Centre from the University of Macau (UM).
The session will be attended by the author, Giorgio Sinedino, with the participation of Professor Yao Jing Ming, Full Professor of the Portuguese Department at UM, and Professor João Veloso, Head of the Portuguese Department at UM.
Since January 2020, University of Macau's Chinese-Portuguese Bilingual Teaching and Training Centre has started a Portuguese radio program called "Chinese Ideas" (Season 1-4) in co-production with Radio China International (CRIpor). With a vast content, covering some of the greatest Chinese literature classics, "Confucius and the Anacletos", "Laozhi and Dao of Jing", "Meng Ke and the Book of Mencius" and "Zhaungzhi and his Book", the program aims to decode and to make the Confucian thought and respective Chinese intellectual traditions known to the entire Portuguese-speaking public.
The 15 episodes that wrap up each season have been regularly made available on the CRIpor and CPC websites, and are fully accessible to all interested parties. In August of this year, the first season was fully converted into this book about Confucius and his work, as a form of promotion and dissemination through the written word on the radio program, to all those who have not yet immerse into the classics.
Giorgio Sinedino has lived in China since 2005 and is fluent in twelve languages, including Mandarin, Cantonese, and Japanese. With a Doctorate in Religion from the Renmin University of China and a Masters in Philosophy from Peking University, the author studied Buddhism at the Dharma Source Temple and Daoism at the White Cloud Temple, having also learned about the various Chinese traditions from multiple masters without institutional affiliation.
Sinedino regularly publishes papers on Chinese thought and literature, maintaining this podcast about classic writers and their works on Radio China International. He translated and published the best-sellers "Os Analectos" (2012), "Dao De Jing" (2016) and "O Imortal do Sul da China" (2022) under the Brazilian publishing house UNESP.
The session will be held in Portuguese, with free admission.
Don't miss it!
For Macau, Further and Higher!