Building the 20th Century: Chui Tak Kei – 2022.10.20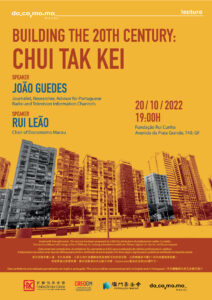 The Rui Cunha Foundation and the Docomomo Research Center of Macau present on Thursday, October 20 at 7:00pm, a lecture entitled "Building the 20th Century: Chui Tak Kei", with the participation of Information Advisor João Guedes and Architect Rui Leão as key speakers.
The lecture will feature the achievements of businessman Chui Tak Kei (1912-2007) throughout his life, as well as his contribution to Macau society and the civil construction sector. A prominent local figure, he participated in the construction and development of Macau, through his role as a political and cultural agent, establishing a close relationship with the Portuguese community, and always expressing his interest in the social well-being of communities.
João Guedes, journalist and writer, has been an Information Advisor for the Portuguese Radio and Television Channels of TDM since 2005. Formerly he has been Deputy Editor-in-Chief, Editor-in-Chief, Deputy Director of Information (1997) and Director of Information and Programmes for the Portuguese Radio and Television Channels (2000). In 2018 he released the photobiography "Chui Tak Kei – History in a Biography", where he collected for future memory the great achievements of this outstanding personality of the Chinese community in Macau.
Rui Leão, architect, is President of the Docomomo Macau Research Center and President of the International Council of Portuguese-Speaking Architects (CIALP), with a PhD in Architecture and Urbanism at the Royal Melbourne Institute of Technology (RMIT) in Australia. He also works in the editorial area, focused on heritage and urban aspects.
Theme:
Chui Tak Kei – uncle of the former Chief Executive, Chui Sai On – was a distinguished businessman and a construction investor, but above all he excelled on a social and political level, becoming Vice-President of the Legislative Assembly of Macau, and participating in the process of Macau's transfer of sovereignty and the drafting of the Basic Law.
During World War II, he directed the Tung Sin Tong Association, a charity that provided aid to refugees, an important role because it was where he began his public life and his social and political intervention.
A leading figure in the business industry, he was President of the Macau Commercial Association – which was at the time a sort of shadow government for the local Chinese community – and would later be the founder of the Macau Civil Constructors Association, of which he became the executive chairman, and later honorary president until the end of his life.
He was a member of the Macau SAR Basic Law Drafting Commission and the SAR Preparatory Commission, as well as Chairman of the SAR Basic Law Advisory Committee.
A lover of music and Fine Arts, he devoted himself in his spare time to drawing, painting and Chinese calligraphy, in addition to being a great admirer and collector of Chinese art.
Admission is free.
Don't miss it!
For Macau, Further and Higher!