"Trio Ensemble Concert" – 2022.09.05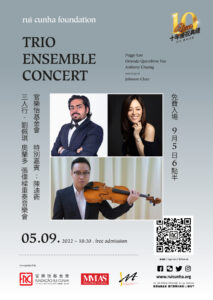 The Rui Cunha Foundation presents on Monday, September 5th at 6:30pm, the "Trio Ensemble Concert", an evening musical recital with renowned pianist Peggy Lau (劉沛棋), tenor Orlando Querobino Vas (奧蘭多) and violinist Anthony Cheong (張偉樑), in addition to the guest appearance of young pianist and composer Johnson Chan (陳迪衠).
The program gathers three experienced musicians who, although being local, have performed in different parts of the world. This is their first collaboration as a trio, where they will perform, solo and ensemble, classical pieces by composers such as Wolfgang Amadeus Mozart, Claude Debussy, Giacomo Puccini, Ruggero Leoncavallo, Pablo Sorozábal, Tommaso Giordani, Alberto Nepomuceno, Sergei Rachmaninoff or Eduardo di Capua.
The session has also a trump card up its sleeve, with the presence of special guest Johnson Chan, the very young multi-instrumentalist, pianist and composer who will present three original compositions of his own, as a solo pianist or accompanied by violin.
The recital will last about one hour and is co-organized by the Macau Music Arts Space (MMAS), with the support of Macau Interdisciplinary Arts Association (IAA), institutions created in 2020 to promote the local music and cultural exchange between artists and the community.
Macau native Peggy Lau (Pui Kei Lau) received her Doctor of Musical Arts degree in Piano Performance at Michigan State University, USA. She is also a Master degree holder in both Piano Performance and Piano Pedagogy. While working on her high-education degrees, Lau was a teaching assistant at Michigan State University and worked as a piano teacher at the University's Community School, teaching private and group piano lessons to undergraduate and graduate students. She currently works as a Resident Fellow at Moon Chun Memorial College and the Faculty of Education at University of Macau. She is also Cultural Ambassador and Deputy Director of the Macau Youth International Art and Culture Association.
Orlando Querobino Vas was born in Goa, India. He attended the Macau Anglican College (MAC) and the Macau Conservatory School of Music, where he did vocal studies, and continued his musical education at the Cambridge School of Visual and Performing Arts in the UK, graduating from the University of Surrey in Guilford. Orlando has been learning, both academically and performing regularly, and will soon return to the UK to pursue his studies in Music Performance at the Royal Welsh College of Music and Dance in Cardiff. In addition to his performances abroad, he has participated in numerous Macau events held at Fundação Rui Cunha, Macau Anglican College, D. Pedro V Theatre, Macau Military Club, among others.
Anthony Cheong (Cheong Wai Leong) is also a native of Macau and began his studies at the Chan Sui Ki Perpetual Help College and the Macau Conservatory, where he learned violin with Master Chan Lap Kwan and viola with Professor Su Jia Juan. In 2000 he joined the Macao Youth Symphony Orchestra and won the Macao Young Musicians Competition. He studied at the Hong Kong Academy for Performing Arts (HKAPA), was mentored by teachers from the Hong Kong Philharmonic Orchestra and advanced his training as a conductor with Professor Zheng Xiao Ying, having conducted the opening of the 2012 season of Xiamen Philharmonic Orchestra concert.
Awarded with many titles and trophies, Anthony Cheong is also the president and founder of Anthony Studio and of the MMAS, entity promoting these activities and musical shows that stand out for their high quality. Plus, he is co-founder of the MAC String Quartet, conductor of the University of Science and Technology of Macau Orquestra (MUST), assistant conductor of the String Orchestra of University of Macau (UM), violin teacher at the Academia de Música S. Pio X and at the Chan Sui Ki Perpetual Help College.
Admission is free.
Don't miss it!
For Macau, Further and Higher!
Program – Trio Ensemble Concert – 05.09.2022