"Peerless" . ARK Collective Art Exhibition – 2022.08.30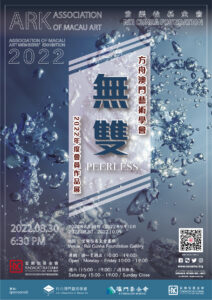 The Rui Cunha Foundation opens on Tuesday, August 30th at 6:30 pm, the Collective Art Exhibition "Peerless", bringing together the artistic work of 30 members of ARK – Association of Macao Art (AAMA), co-organizer of the event. The art selection was curated by painter Yaya Vai and sponsored by the Macau Foundation.
The exhibition presents a set of 30 works of different materials and styles – including painting, multimedia production, photography and crafts – each one representing an artist, all of them amateurs and coming from varied professions.
The title "Peerless" – unparalleled, incomparable, unique, irreplaceable – was the challenge given to the 30 participants, suggesting that ARK members should express their most subjective feelings about people, objects and memories through the works created, without prejudice or judgment of value.
«There is a saying: "Unparalleled in the world", meaning there is no other equal in the world. This can be used to describe something very precious, (…) it may also mean things of personal and sentimental value, such as sweaters knitted by mothers or recipes made by grandmothers. What is unique for you? An object, a scene, a moment, or even something considered minor in the eyes of others?», reflects the manifest of "Peerless".
ARK – Association of Macao Art's mission is to promote art and culture through activities such as exhibitions, seminars and workshops. AAMA also intends to stimulate the learning of art among the residents, serving as a platform for the dissemination of talent and creativity of the members, improving their quality of life and offering an escape from the pressure of work and the daily life of these amateur artists.
The artworks will be on display until September 10th, 2022.
Admission is free.
Don't miss it!
For Macau, Further and Higher!