"Sound of Joy" . Early Summer Student Concert – 2022.06.18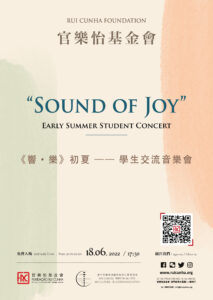 The Rui Cunha Foundation presents on Saturday, June 18th at 5:30pm, an Early Summer Student Concert of, under the title "Sound of Joy", which will be performed by 21 young music pupils of teachers Carol Lee (Guzheng), Keri Mak (Voice), Ka Pou Cheong (Yanqin/Dulcimer), Sandra Chang (Percussion and Piano), Monic Kei (Piano) and Chau Wai Lam (Flute), at an event co-organized by the Macao Music Performing Arts and Cultural Education Association (MMPACEA).
This concert is a gathering of young apprentices of various musical instruments, who will share the stage, ensemble or solo, for such important educational experience. The program features 17 themes covering a diversity of musical styles – classical, traditional, modern – presented through Voice, Guzheng, Piano, Yangqin, Percussion and Flute. In addition to Johann Wilhelm Hässler, Johann Sebastian Bach or Frédéric Chopin, there will also be Liu Qingniang, or the songs from the films "Toy Story", "Annie" and "Peter Pan", among other good surprises.
Carol Lee and Keri Mak are the co-founders of MMPACEA and are both Masters graduated from the Central Conservatory of Music, the highest music institution in the country. In Macau they have developed an important work as teachers and pedagogues of children and young people in their musical fields. Carol Lee has been involved in a wide range of performances and productions, experimenting with various genres and exploring the potential of Guzheng. Since her graduation and returning to Macau in 2020, she has been active in promoting the local industry and educating young musical talents. Keri Mak followed a similar path, graduating from Opera in the same year and performing several concerts in Beijing, Shanghai and Macau, where she is now a Voice teacher at Macao Polytechnic University.
Admission is free.
Don't miss it!
For Macau, Further and Higher!
18Jun2022_Concert_Program -音樂會節目單