Nam Van Sound Waves . "Bel Canto & CDSJ 6 Choir" – 2022.06.04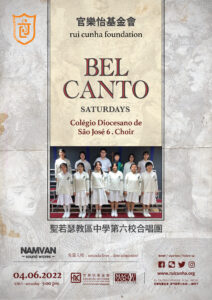 The Rui Cunha Foundation presents on Saturday, June 4th at 5:00pm, a recital of "Bel Canto & the CDSJ 6 Choir", integrated in the series of musical concerts "Nam Van Sound Waves", co-organized by the Macau Vocal Association and featuring the students of the Saint Joseph's Diocesan School 6.
The Macau Vocal Association is, therefore, pleased to bring mezzo-soprano Edith Lao to the FRC Gallery's stage, accompanied by Coris Cheong on the piano, for a series of Germanic influenced art songs, including works by composers Hugo Wolf, Franz Schubert, Franz Liszt and Robert Schumann. Some arias are also selected from different operas, including "Faust" by Charles Gounod, "Rinaldo" by George Frideric Händel, or "La Cenerentola" by Gioachino Rossini. The selected repertoire will all be performed in the original language.
The Choir of CDSJ6 was also invited to participate in the show, bringing 14 students conducted by Mars Lei and accompanied on the piano by Lao In Teng. Since 2021, the Macau Vocal Association has been cooperating with CDSJ 6 High-School pupils. After a few months of training, this new class of students will give their first public performance. The repertoire includes "Jasmine Flower", a traditional Chinese song arranged by Donelly & Strid, the chorus version of the English contemporary poem "Tiger! Tiger!" by Katie O'Connor-Ballantyne, "Firefly" by Andy Beck and the "Pavane of Spring" by Eugene Butler, as well.
Bel Canto is considered the ultimate expression of the human voice. The Italian term was coined in the 18th century. This vocal technique emphasizes the beauty of sound and the artist's technical ability, rather than the dramatic expression or romantic emotion. It is still taught today in similar ways as in the past.
Admission is free.
Don't miss it!
For Macau, Further and Higher!