Rui Cunha Foundation visited the Macau Baptist College – 2022.05.23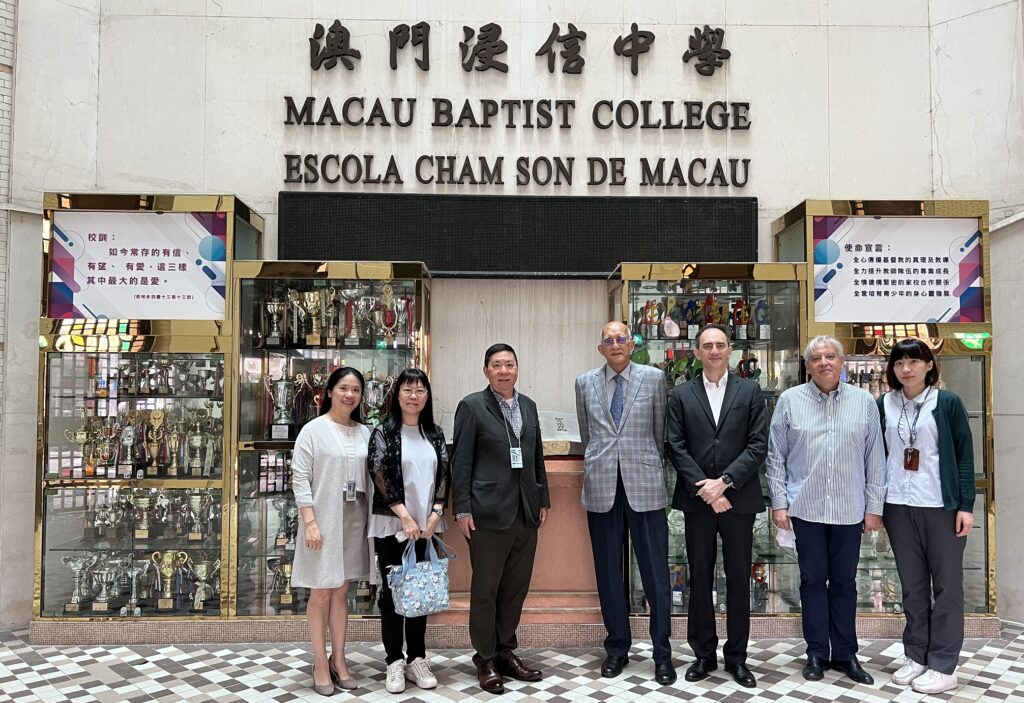 Upon invitation by the Macau Baptist School, the Rui Cunha Foundation – represented by its President and Vice-president, Mr. Rui Cunha and Mr. Rui Pedro Cunha, respectively – visited on May 23rd the facilities of that educational institution. They were received by the Principal, Mr. Lei Cheok Kin, the Vice-principal, Ms. Lam Tai Tai, the Music and Art Course director, Mr. Wong Oi Peng, and the Music Course consultant, Veiga Jardim.
During the visit, both sides exchanged their experience on cultivating the artistic talents and cultural development. The diversified education pattern of the Macau Baptist Middle School encourages the young children's interest in learning music. It offers violin and cello lessons in the Primary School Course, allowing each student to have their own musical instrument, and conducting two systematic lessons every week, using art education to nurture their character.
The Middle School also offers a number of elective subjects, including Astronomy, Biotechnology, Mechanical Technology, World History, Integrated Business, Portuguese, Integrated Music, Integrated Design, Visual Arts, Drama, Dance, and English Translation, allowing students to choose their favorite subjects and get a better understanding of them. These assets will enable them to develop all aspects of morality, intelligence, physique, co-operation, and spirituality.
Last April 2022, the Rui Cunha Foundation and the Macau Baptist College have co-organized a String Concert at the FRC Gallery, entitled "Children's Heart, Children's Music 2", with students from Primary School. At the same time, the Foundation provided an opportunity for the Baptist College Music Course students to do an internship program related to their art careers. The two parties will continue to develop more cooperation initiatives
For Macau, Further and Higher!