Gastronomy & Cinema . "Eat Drink Man Woman" (1994) – 2022.03.29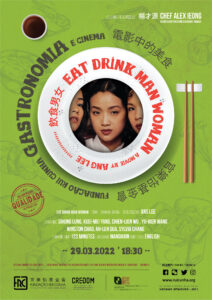 The Rui Cunha Foundation presents on Tuesday, March 29th at 6:30pm, the first of a series of six films, whose motto revolves around Gastronomy and Cinema. With a monthly periodicity, the cycle opens with the film "Eat Drink Man Woman" from 1994, directed by Ang Lee, being preceded by a short presentation by Chef Alex Ieong, head of the kitchen of "Solmar" restaurant.
Eat, drink, man, woman, the four elements that create and sustain life. For Taiwan's greatest cook, food is life. Despite his culinary skills being revered by all, he is not able to prepare the most sublime of dishes: the education of his daughters. Jia-Jen, a chemistry teacher converted to Christianity, Jia-Chen, an executive at an airline company, and Jia-Ning, a student who works at a fast-food restaurant.
Life at home revolves around the ritual of preparing the family dinner on Sundays, where the daughters update and share news of their lives with their father. Through these conversations, the girls come to realize that the house where they grew up is too small for their dreams and aspirations, putting into question the traditional family ideology and beginning to make the transition to modern traditions, much more harmonious with their intended paths.
"Eat Drink Man Woman" was a critics and box office success, receiving among other prizes the Best Film award at the Asia Pacific Film Festival and later being nominated for Best Foreign Film at the 1995 Oscar's ceremony.
The history of gastronomy merges with the history of man himself. Nowadays, societies have stopped eating just to live. The act of eating, as an automated and exclusively practical mechanism, gave rise to a true alchemical ritual, culturally transforming and sometimes magical.
If, on the one hand, gastronomy is an identity element and the mirror of cultural richness of different countries, on the other hand, it is an immeasurable meeting point to establish connections with people.
Living up to its centuries-old multiculturalism, Macau has an impressive variety of cuisines from different origins – Portuguese, Chinese, Japanese, Indian, etc. – making this cosmopolitan region a true paradise for foodies.
Therefore, Gastronomy became the central theme of the new cycle of Cinema, selected and praised by Rui Cunha Foundation for local audiences to enjoy.
The film is spoken in Mandarin, with English subtitles.
Restricted to minors under 13 (Group C).
Admission is free, starting at 6:00pm, but subject to limited seating.
Don't miss it!
For Macau, Further and Higher!