"Sound of France" . 4-Hands Piano Recital – 2022.01.22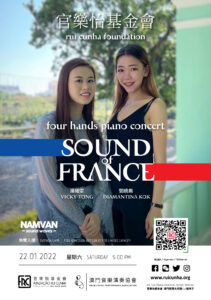 The Rui Cunha Foundation presents on Saturday, January 22, 2022, at 5:00pm, a four-hand piano recital, entitled "Sound of France", which will be performed live by pianists Vicky Tong and Diamantina Kok, teachers of music and also co-founders of the Macao Music Performance Association.
The concert will have the duration of about one hour and will include themes by French composers Claude Debussy, Gabriel Fauré, Camille Saint-Saëns and Francis Poulenc, some of the preferred by the two pianists, who decided to select a program entirely dedicated to French classical music.
Vicky Tong (湯曦雯) graduated from Wright State University (Dayton, Ohio, USA) with a Bachelor of Music degree in Piano performance, studying with Professor Jackson Leung. After receiving the Outstanding Undergraduate Student Award and the Outstanding Senior Music Award, for her achievements as a student, she received a full scholarship from Kent State University (Kent, Ohio, USA) and pursued her Master of Music degree in Piano performance, under Professors Jerry Wong and Donna Lee. She was part of the Kent State University Opera cast and one of the graduates of the KSU Teaching Institute Program. Vicky Tong was also a student of renowned teachers and pianists, such as Ann Schein, James Tocco, Victor Rosenbaum, Jean-Louis Haguenauer and Eduard Zilberkant, having participated in several competitions and performed solo piano recitals in the United States, Canada, Italy and Macau. Currently, Vicky Tong is involved in piano teaching and promoting the development of music in Macau.
Diamantina Kok (郭曉樂) has a broad educational background, having graduated from the University of Macau with a Bachelor of Social Science in Psychology. Her passion for music led her to continue her musical studies in London, at the Guildhall School of Music and Drama, under the tutelage of Philip Jenkins and Laura Roberts, where she completed her Masters in Music in Piano performance, under the guidance of renowned pianists such as Bruce Brubaker, Shi Jun Wang, Yu Jung Park, Hsieh Cheng Feng. She has performed in Macau, China, Hong Kong and London, both in solo performances and accompanying recitals and concerts of chamber music and orchestral music. Since 2011, Diamantina Kok has been teaching and working closely with students of all levels, being today a dedicated and experienced teacher, with her own YouTube channel, where she shares content on piano and music with the younger generations.
The Macao Music Performance Association is a non-profit organization whose mission is "to provide performance opportunities for young musicians in Macao, as well as educate young audiences about music".
Admission is free, but subject to capacity limitations, following the health recommendations implemented by local authorities.
Don't miss it!
For Macau, Further and Higher!
Program – Sound of France – 4 Hands Piano Recital – 22.01.2022