Nam Van Sound Waves . "MPI Students' Bel Canto Joint Recital" – 2021.11.13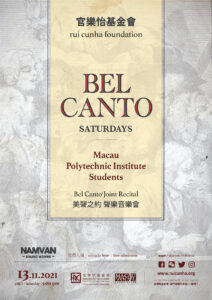 The Rui Cunha Foundation presents on Saturday, November 13th at 5:00pm, the "MPI Students' Bel Canto Joint Recital", as part of the musical concert series "Nam Van Sound Waves", co-organized by the Macau Vocal Association, with the special presence of students from the Music Course at the Macau Polytechnic Institute.
The selected program, under the responsibility of MPI's voice teacher Mrs. Xi Wang, will bring the outstanding voices of sopranos Cheong Pou Ian, Yuan Tao, Yirong Wang and Orianna Shen, and tenors Yuzhuo Zhang and Liangyi Chen, accompanied on the piano by Lao In Teng, To Ching Yin, Huiyin Hao, Xilyu Feng, and Ho-Tung Poon.
Also noteworthy is the piano solo by Xilyu Feng, who will interpret the Goyescas-Suite: IV. Quejas ó la maja y el ruiseñor, by Enrique Granados. The program also features musical pieces by composers Franz Schubert, Edvard Grieg, Gabriel Fauré, Jacques Offenbach, Reynaldo Hahn, Jules Massenet, George Frideric Handel, Robert Schumann, Cesare Andrea Bixio and Francis Poulenc.
Bel Canto is considered the ultimate expression of the human voice. The Italian term was coined in the 18th century. This vocal technique emphasizes the beauty of sound and the artist's technical ability, rather than the dramatic expression or romantic emotion. It is still taught today in similar ways as in the past.
Admission is free, but subject to health recommendations implemented by local authorities.
Don't miss it!
For Macau, Further and Higher!
Belcanto Saturdays_Program_13Nov2021