"The Melting Frozen Soil" . Borderless Arts Exhibition – 2021.09.21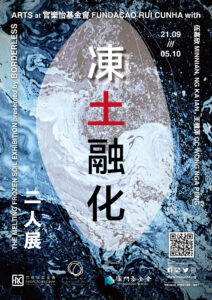 The Rui Cunha Foundation presents on Tuesday, September 21st at 6:00 pm, the opening of the "The Melting Frozen Soil" Exhibition, bringing together the works of two local plastic artists, Minnian Ng Ka Ian and CC Wong Nga Peng, to the walls of FRC Gallery.
Developed by the "Borderless Arts" Association, with the support of Macau Foundation, the exhibition will show 30 art pieces, created from mixed materials, such as acrylic paint, varnish, crystal glue, canvas, wool, embroidery thread, silk and cotton, leaves, petals, tree bark and other natural elements. According to the artists, «we wanted to convey in our pieces the sensation of movement, with stunning colors and the use of natural and artificial materials».
The theme underlying the project is the global concern for planet Earth. "The Arctic plays an important role in climate change. Since it is warming more than two times faster than the rest of the world its changes are affecting the global climate and ocean systems. Melting ice shelves are disturbing ecosystems, releasing greenhouse gases such as methane and carbon dioxide stored in permafrost, and exacerbating the 'out of control' climate change», declares the artists' manifest of intentions.
Minnian Ng and CC Wong hope to bring different visual experiences to the public through their works, using a variety of media and interactive AR technology (Augmented Reality). «This exhibition aims to promote public awareness on climate change, leading people to reassess values and attitudes, as well as encouraging a more sustainable development for society», as the artists explain.
The exhibition will be on display at the FRC Gallery until October 5th, 2021.
Don't miss it!
For Macau, Further and Higher!
Biographies:
Minnian Ng is the founder of Binshu Culture and Art Company, president of Associação de Artes Zero Seis, president of Borderless Arts, founder and vice-president of Associação de Artesanato e Pessoas Criativas de Macau, and secretary-general of Associação Cooperativa de Arte e Cultura dos 37 Graus. Graduated from Guangzhou Academy of Fine Arts, and majoring in Graphic Design, he works in art administration and design, also being an art teacher, events coordinator and a children's illustrator.
CC Wong is president of Associação de Artesanato e Pessoas Criativas de Macau, project supervisor of Binshu Culture and Art Company, illustrator of 37 Graus, as well as founder of CCLOVETHINK. She obtained her professional qualification by enrolling in the Printmaking and Art Administration Certificate Programme, under the major of Visual Arts in Macau Polytechnic Institute. Throughout her career, the artist has been involved in numerous artistic creations, including handicrafts, art, printmaking, sketching and seal cutting, as well as participating on several collective exhibitions in Hong Kong and Macau.