"Greater Bay Area Sky" . Aerial Photography Exhibition & Seminar – 2021.09.06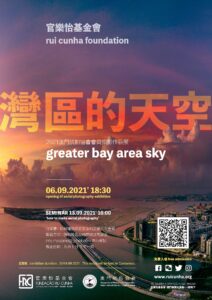 The Rui Cunha Foundation inaugurates on Monday, September 6th at 6:30pm, the "Greater Bay Area Sky" Aerial Photography Exhibition, an initiative co-organized by the Macau Aerial Photography Association, which brings together the works of 17 amateur members at the FRC Gallery.
The exhibition will display 36 photographs taken by drones over the skies of Macau and other cities in the Greater Bay Area, using current technologies. The challenge is to promote the development of the art and technology of aerial photography, and to create a communication exchange platform to drive a growing interest in this new artistic and cultural activity.
A few hours earlier, also on September 6, at 4:00pm, a seminar will be held in Cantonese, under the topic "How to make aerial photography popular and safer", presented by guest speakers Andre Hong (洪于德) and Eric Ho (何俊賢), who will share experience and knowledge about aerial photography techniques, up-to-date regulations, as well as the use of drones in the territory and neighboring areas.
"Macau is a platform for cultural exchange between China and the West. It is also a member of the Greater Bay Region, where many aerial photography enthusiasts often live and travel. We hope that, through this exhibition, more citizens and tourists can understand and experience the characteristics and beauties of each of these cities», reveals the Association.
The exhibition will be on display until the 14th of September, 2021.
Admission to the seminar and exhibition is free, but subject to capacity limitations, due to compliance with the health measures in force.
Don't miss it!
For Macau, Further and Higher!
2021.09.06 – Seminar – GREATER BAY AREA SKY – HOW TO MAKE AERIAL PHOTOGRAPHY POPULAR AND SAFER 
2021.09.06 – Exhibition – GREATER BAY AREA SKY – HOW TO MAKE AERIAL PHOTOGRAPHY POPULAR AND SAFER