Butterfly Lovers, Eternal Love – 2021.07.29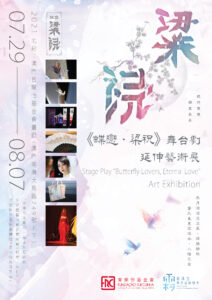 The Rui Cunha Foundation presents this Thursday, July 29th at 15:00, 2021, the informal opening of the Collective Art Exhibition "Butterfly Lovers, Eternal Love", which will showcase a new project from the team of artists that brought to FRC Gallery the "Blooming Beauty of Macau" Art Exhibition last 22nd of March, 2021.
Developed by Frost Ice Snow Creative Experimental Theater, with the support of the Macau University Student Union Drama Club, "Butterfly Lovers, Eternal Love" Art Exhibition is an enhanced production of the original multimedia art innovative stage play "Butterfly Lovers, Eternal Love", based on a traditional story that is an eternal classic in Chinese culture.
«The play was premiered in 2019, and was one of the first "Art Macao" series activities. It was honored to re-run for four times this year of 2021, and held successfully the first project of commercial theatre in Macao, which was popular between the citizens and companies», according to the art manifest for this event.
The legend of Butterfly Lovers is one of the four major love stories in ancient China. «It has developed, formed and matured for more than 1700 years since the Eastern Jin Dynasty, and can be called a common folk-art creation for thousands of years». The Frost Ice Snow Creative Experimental Theater decided, therefore, to explore and combine modern art with traditional classics, to bring the experience to a next level.
The project takes on a new life in this partnership with FRC, where almost 30 art pieces will be shown, created by five local stage artists with different styles and techniques. They are Anita Seak Ian Chi (writer), Bill Ng Ion Chong (graphic designer), Ines Chan I Lei (painter), Memphis Ng Chi Wai (costume designer), Stella Fong Hoi Lam (metal craft designer) and the PHM Professional Makeup Artists.
The works include video projections, costume designs, graphic designs, makeup photos and paintings, writings and lyrics, metal crafts, and other artifacts, which testify to the creative vitality of the new generations of Macau.
The exhibition will be on display at the FRC Gallery until August 7, 2021.
Don't miss it!
For Macau, Further and Higher!