"Patterns of life" . Porcelain Painting Exhibition – 2021.05.06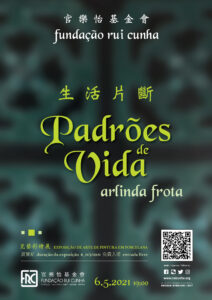 The Rui Cunha Foundation presents next Thursday, May 6 at 7:00 pm, the Porcelain Painting Exhibition "Patterns of Life", by Arlinda Frota, who brings again her inexhaustible artistic production to the walls of FRC Gallery.
The artist, teacher and mentor of this art in the territory, exhibits her work in this house, composed of 53 pieces in painted porcelain. In the exhibition there will be objects such as plates, cups and teapots, small jewelry boxes, ashtrays and decorated platters, with shapes and shades of multicultural influence.
As her biographical manifesto summarizes, «it is at the limits of each plate or platter, cup or saucer, or each porcelain panel, that the Artist recreates a world of mythical figures, floral elements, games of colors, which sustain the fantastic realm from where her inspiration comes. The influences she has been receiving are the most varied and Arlinda Frota feels identified with this plurality of sources, without any intention of following a school or current. Total personal freedom reigns in her choice of themes and objects to decorate».
Arlinda Frota was seduced since childhood by the "delicate texture of porcelain", educated by her mother, "a great collector of tea pieces", as she likes to tell. Since the beginning of her journey through these arts, she has studied «the far back history that is associated with Porcelain Painting, with obvious connections to the historical relationship between Portugal and China». And since 2014 she has been regularly teaching "Porcelain Painting" courses at Casa de Portugal in Macau.
In the past 5 years, she has also attended several courses and workshops in painting and ceramics, having developed numerous painting techniques with acrylic paints and oils, as well as the production of Portuguese tiles.
Being a physician by profession, Arlinda Frota has lately dedicated herself to artistic creation and has already exhibited her porcelain artworks in more than one hundred collective and individual presentations on three continents. She is a member of several artistic societies in different countries, including the Sociedade de Belas Artes in Lisbon, Portugal, which has also received her works on display.
The exhibition will be open until the 21st of May 2021.
Admittance is free.
Don't miss it!
For Macau, Further and Higher!