Literati Elegance II: Jade Scholars' Objects – 2021.04.30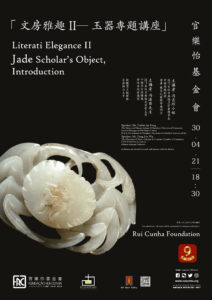 Speaker: Ms. Fong Mei Leng – The Director of Macau Antique & Furniture Chamber of Commerce, General manager of Old House Gallery with a master degree in Art Business at Tsinghua University & Sotheby's Institute of Art.
Speaker: Mr. Fong Lin Wa – The Chairman of Macau Antique & Furniture Chamber of Commerce and the CEO of Old House Gallery; Macau Chinese Senior Antique Collector, has more than 30 years' experience in the Chinese antique and furniture industry.
The Rui Cunha Foundation and the Macau Antique & Furniture Chamber of Commerce will once again host the "Literati Elegance II – Jade Scholar's Objects Introduction" series at Rui Cunha Foundation Gallery at 6:30 pm on 30 April 2021(Friday).
During this introduction, speakers Catherine Fong and her father Fong Lin Wa will share their experience and knowledge on the culture and stories with regards to 4 rare, historical jade scholar's objects, such as a White Jade 'Crab and Reed' Paperweight; a Celadon Jade 'Shou' Brush Washer; a White Jade Box and Cover and a Fine White Jade Pendant "Zigang". There will also be an interactive part where the audience is invited to observe and touch the objects in person, allowing them to physically experience and feel the beauty of these antique pieces.
The event takes place after a first edition, held at FRC in August 2020, under the title "Literati Elegance I – Wooden Scholars' Objects Introduction". These lectures' mission is to disseminate to a wider audience various subjects of recognized historical and cultural interest that reflect traditions and add knowledge to local communities.
"Jade, the beauty of stone!" – Jade has carved precious historical, cultural, aesthetic, scientific values and ideal pursuits for the Chinese nation. Jade not only deeply influenced the thinking of the ancient Chinese, it also became an important part of Chinese culture.
Confucianism advocates the jade culture to the utmost. This is the reason Confucians compare a gentleman's virtue to jade. Let us walk into the literati 's studio and experience the beauty of jade, to pursue the wisdom of the past.
The Macau Antique & Furniture Chamber of Commerce is a non-profit organization. The purpose of the organization is to encourage the development of the antique and furniture industry in Macau. It also aims to promote Chinese art culture and to strengthen an effective communication and professionalism within the industry. It serves as a bridge to connect the local and foreign art lovers and collectors together.
The event will be conducted in Cantonese with English interpretation.
Admittance is free.
Don't miss it!
APRIL, TIME TO CELEBRATE
For Macau, Further and Higher!