Nam Van Sound Waves . Bel Canto & Piano Solos – 2021.04.10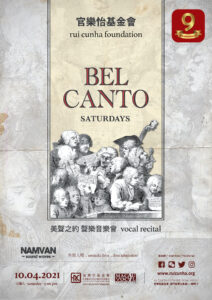 The Rui Cunha Foundation presents next Saturday, April 10 at 5:00 pm, a session of "Bel Canto & Piano Solos", included in the new series of musical concerts "Nam Van Sound Waves".
The program for this late afternoon, curated by the Macau Vocal Association, has selected the pianists Anjolie Ieong, Rachel Ng, Sofia Ng and Frank Liao, guided by instructors May Poon and Sandra Poon, to interpret pieces by Tchaikovsky, Gillock, Bach, Chopin, Mozart, Haydn, Arensky, Chaminade, Heller, Beethoven and Prokofiev.
The vocal recital will be interpreted by the multi-talented musician and baritone Mars Lee, guided for this project by May Poon, bringing us musical pieces from Roger Quilter, John Alden Carpenter, Ben Moore and Celius Dougherty.
Bel Canto is considered the maximum expression of the human voice. The Italian term was coined in the 18th century. This vocal technique emphasizes the beauty of sound and the technical capacity of the artist, instead of the dramatic expression or romantic emotion, being still taught today in a similar way as in the past.
Admittance is free.
Don't miss it!
APRIL, TIME TO CELEBRATE
For Macau, Further and Higher!
Belcanto Saturdays – Program 10 Apr 2021