9th Anniversary of Rui Cunha Foundation – April 2021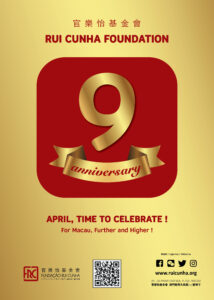 The Rui Cunha Foundation celebrates its 9th Anniversary on April 28, 2021, with a complete program of events for all tastes and audiences, which will extend throughout the month.
From painting and photography to music, from conferences and debates to cinema, there will be sessions almost every day and in all different languages of Macau, to make this month even more popular and inclusive.
Book now on your calendar and don't miss any news!
APRIL, TIME TO CELEBRATE
For Macau, Further and Higher!