Tang People . Tang Poetry – 2020.11.17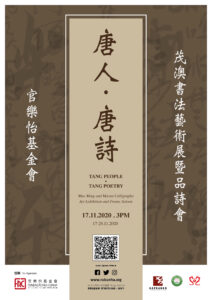 The Rui Cunha Foundation presents Tuesday, November 17 at 3:00pm, the opening ceremony of "Tang People – Tang Poetry‧. Maoming and Macau Calligraphy Art Exhibition and Poems Saloon", an event co-organized by the host, the Macau Flora Garden Poets Group, the Maoming Calligraphers Association and the Macao-Maoming Overseas Friendship Association.
The city of Maoming is located in the western part of Guangdong province and is famous for its strong cultural atmosphere. Since the establishment of the Maoming Calligraphers Association, 36 years ago, many important calligraphy masters have joined the association in large numbers, where they have been actively promoting the concept of "calligraphy for thousands of families", with the intent of spreading this traditional Chinese art among the new generations.
The exhibition's theme is "Tang People – Tang Poetry" and consists of reproducing the prosperous style of Tang poetry in books and painting. The Macau Flora Garden Poets Group will showcase several metric poem frames, in the style of Tang Dynasty, to complement the calligraphy exhibition. In addition to disseminating this cultural exchange between the cities of Maoming and Macau, the project aims to arouse the curiosity of public in general, and the interest of students in particular for metric poems and the beauty of the poetry connotations in books.
The exhibition will be open until November 28 (Saturday) at the Rui Cunha Foundation Gallery.
Do not miss it!
For Macau, Further and Higher!