To Camões . Scarlett Ma – 2020.11.14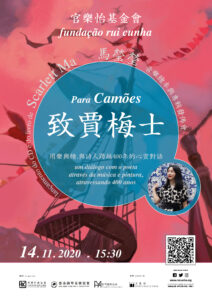 The Rui Cunha Foundation presents this coming Saturday, November 14 at 3:30pm, the launching of the Book and CD "To Camões – A dialogue with the poet through music and painting, spanning 400 years", by Scarlett Ma.
Also known as Ma Ying Ying (馬 瑩瑩), Scarlett is responsible for the composition and interpretation of the melodies, accompanied by her own poems and watercolor illustrations, that are part of this very personal project. The result was an illustrated book and the recording of a CD that brings together several poems and songs performed by the multi-faceted artist, some inspired and others translated from the sonnets of the greatest poet of the Portuguese language, Luís Vaz de Camões.
Scarlett Ma was born in China and in 2010 came to Macau to study music. Here she acquired professional knowledge and experience and eventually settled down. In 2014, she went to Portugal to perform and discovered «that there was a great Portuguese poet, Luís de Camões, who had passed through Macau. It was said that there was a love story between the poet and a Chinese woman named Dinamene». Reading the famous poems and sonnets had an impact on her life, "because they make me feel so good", revealed the artist in her proposal for the event.
Fortunately, according to her, her piano teacher, Mr. Choi Sown Le, encouraged her to compose music that could combine Chinese and Portuguese cultures, thus giving impetus to this project, which was supported by the Macau Cultural Affairs Bureau. «With the emotion of Luís de Camões' story, and encouraged by my teacher, I started to think about how to better illustrate my understanding of both cultures. The work you see today is based mainly on my vision of this cultural encounter».
Scarlett Ma's tribute to Camões is scheduled for early Saturday afternoon, at the FRC Gallery, where she will present herself as a composer, pianist, soprano, writer, poet, illustrator and music producer, making her work known to the audience and interpreting live (voice and piano) some of the melodies that are part of the album.
Don't miss it!
For Macau, Further and Higher!